Our conclusion is that examined carefully, factories in Western nations often hold the possibility of transformation significant enough to make them competitive with plants in low-cost countries. This transformation can usually be accomplished by aggressively pulling inherent and structural levers. But these factories do require a significant investment in human capital, asset funding, and time if they are to run at the desired output and cost. Indeed, if CEOs in Europe had considered all of the separate financial, labor, infrastructure, and technical challenges involved in relocation or transformation, many plant relocations from France, Germany, and the Netherlands to Eastern Europe would not have happened, and many others would have happened in a different way.
The Answer Is Somewhere in Between
In our experience, companies that manage the low-cost-nation quandary best do not rely solely on a strategy of relocation or transformation, but instead choose the appropriate approach as well as a variety of blended possibilities depending on the circumstances. Among the range of options that companies have are jointly setting up a so-called extended workbench by outsourcing manufacturing segments to external partners in low-cost countries and handing over ownership to a partner abroad. (See Exhibit 3.)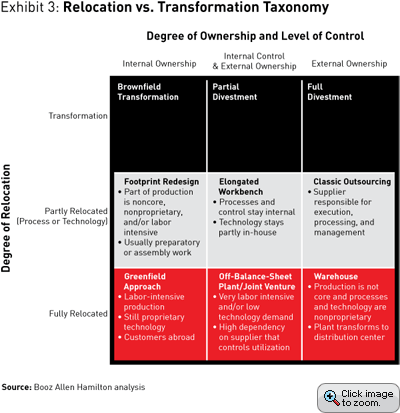 To begin to decide which model fits best, a company must ask these questions:
Are the manufacturing technologies or installed processes
Proprietary?

Core competencies?

More accessible in traditional markets?

Capital-intensive rather than labor-intensive?

Dependent on shop-floor know-how?
The more these questions are answered "no," the greater the chance that relocation or some other external plant approach is the best option. But besides these intrinsic questions, companies also should pose some structural queries, such as:
Is it imperative for reasons of quality or logistics to keep suppliers and distribution close to the customer base?

To what degree is manufacturing productivity or effectiveness influenced by the potentially different plant scale and labor costs?

What is the customer demographic footprint, and how stable does product demand flow have to be?
We have found that when these questions are taken into account, many companies choose a stepwise approach to relocation and realize significant benefits from doing so. In one recent case, a German aerospace parts manufacturer was hoping to cut costs by implementing an extended workbench in Eastern Europe. Although manufacturing capabilities were, in general, available at the sites under consideration, local processes in Eastern Europe did not meet the company's quality and service standards, and they lacked the equipment necessary to satisfy the required plant volume. So the aerospace company decided to "test the waters" by equipping an Eastern European supplier with older milling and bending machines, which were located in one of the German company's brownfield locations and were slated to be replaced soon, and then shifting 25 percent of its parts volume to this supplier.
By introducing a new process allowing make-to-stock production and by transferring to Eastern Europe only simple, high-volume parts with few quality problems, the aerospace company gave the supplier a real chance to move up the learning curve quickly and meet the necessary lead times. At the same time, the supplier was still highly dependent on the aerospace company, since final quality checks continued to be controlled in the West and the equipment that the supplier was using was only borrowed from the aerospace company.
A similar differentiated approach was adopted by a German manufacturer of agricultural equipment, which badly needed to catch up with competitors that had already established low-cost factories in Eastern Europe and Asia. Closing plants in Western Europe was not a particularly good option for this company, because it would be prohibitively expensive. So instead of a wholesale move East, the equipment manufacturer decided to take a gradual approach and outsource only parts of its production. The strategy was called "rolling up from the bottom." The company began by finding or developing metal-forming and parts facilities in the Czech Republic. The paint shop and final assembly, however, remained in the West to maintain quality control on final production.