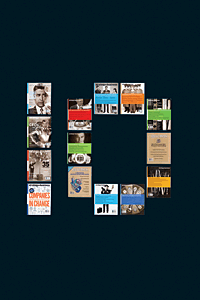 From its inception in 1995, strategy+business has been a magazine dedicated to the value and power of ideas. It has embodied the view that, as Victor Hugo once put it, "An invasion of armies can be resisted, but not an idea whose time has come." We like to think that our readers are real-world users of ideas, pragmatists who understand that a conceptual breakthrough can make enormous day-to-day difference.
Thus, for our 10th-anniversary issue, we took the question head-on: Of all the ideas strategy+business has covered, which are most likely to endure for (at least) another 10 years? After reviewing the magazine's back issues (all available free on our Web site, www.strategy-business.com), Deputy Editor Amy Bernstein and I winnowed out a manageable list of 35 key contenders. We invited two different groups to vote: the electronic subscribers to our e-mail newsletters enews and Resilience Report (also available free on the Web site); and the thought leaders — writers, subjects of profiles, and interviewees — who have been featured in our pages during the past 10 years. We set no limit on the number of votes any individual could cast. Voters were also given a chance to comment online, and many did. Additionally, we asked for contributions from two of s+b's authors: Harvard Business School professor and author Rosabeth Moss Kanter (who wrote the first major "idea piece" for Issue 1 of strategy+business, in 1995), and MIT lecturer and contributing editor Michael Schrage (one of the most consistently cogent connoisseurs of management ideas we know).
Some comment writers took us to task for superficiality. "To be honest," Charles Handy wrote, "I think a lot of these are just glorified common sense." Others accused us of rehashing old concepts ("That chestnut again?") or carelessness with our categorization. "Some of these aren't 'ideas,'" noted Warren Bennis. "They're strategy or action steps." On the other hand, the survey enthralled many; as one anonymous voter put it, "There are a wealth of choices!" In the end, we were gratified that so many people (including Professors Handy and Bennis, who are keenly original and highly influential generators of management thinking in their own right) felt drawn to participate in our modest and informal, but ultimately thought-provoking, survey.
Here, then, are the winners — the ideas voted most likely to affect the way businesses, including your business, are conducted in the long run.
Top 10 Concepts
1. Execution (1,911 votes; 49.3 percent of the voters chose this concept). It's not your strategic choices that drive success, but how well you implement them. As Larry Bossidy and Ram Charan pointed out in their book Execution, the most critical quality for managers is the ability to put ideas into action. Almost half the people who took the survey, in voting for this concept, explicitly affirmed the conceptual importance of a facility for well-disciplined action. "After 22 years in business," wrote one anonymous correspondent, "across a number of roles, it continues to amaze me how many businesses fail at the basics." To our readers, execution does not mean attention to numbers and metrics, but, as another correspondent wrote, "looking at your whole process, finding small ways to improve each part individually, really implementing the improvements, tracking the results to judge effectiveness, and then repeating the process." (See "Execution: The Un-Idea," by Rosabeth Moss Kanter, below.)
Related Articles:
Larry Bossidy: The Thought Leader Interview
Ram Charan: The Thought Leader Interview
Execution: The Un-Idea
by Rosabeth Moss Kanter
Twenty-five years ago, management meant control. Managers put in controls, handed workers specifications, and established formal structures that ensured that people did what they were told. Companies operated alone, rather than being part of partner networks or plugging their people into informal relationships. It was an ineffective way to operate, especially after the information technology revolution took place, and to break out of it, companies needed management ideas. Innovation and intrapreneurship, Total Quality Management, Six Sigma, reengineering, networked organizations — these were all conceptual handles that allowed executives to justify and develop new breakthrough practices.
Today, companies don't need new ideas in the same way they did 25 years ago (although they still need new business strategies). They've been through the paradigm shift. They have sustained tremendous improvement in productivity, effectiveness, and attentiveness to opportunities. That doesn't mean they've been successful; indeed, as they've explored new ways of working, we have all learned how hard it is to put these ideas into practice. Executives routinely say that the hardest thing they do is improve people and corporate culture. It's still much easier to let such matters slip, to neglect them. And in the past few years we've seen what happens as a result: Ethical standards, and our ability to groom future leaders, inevitably decline.
That's why execution, or "making it happen," is so important. Execution is the un-idea; it means having the mental and organizational flexibility to put new business models into practice, even if they counter what you're currently doing. That ability is central to running a company right now. So rather than chasing another new management fad, or expecting still another "magic bullet" to come along, companies should focus on execution to effectively use the organizational tools we already have.