7. Organizational DNA (1,315; 33.9 percent): Leaders can design an organization's structures — incentives, decision rights, reporting relationships, and information flows — to induce high performance by aligning them with one another and the strategic goals of the enterprise. Elucidated in the book Results, by Gary L. Neilson and Bruce A. Pasternack, this idea attracted people who wanted to design organizational change without "sermonizing about behavior," as one reader put it.
Related Articles:
The 7 Types of Organizational DNA
The Four Bases of Organizational DNA
The Cat That Came Back
8. Strategy-Based Transformation (1,277; 33.0 percent): Beyond the "blank page" of reengineering, this is the redesign of processes and organizational structures, and the consequent cultural change, to fulfill the strategic goals of the enterprise. In an ideal universe, this would not even be a management concept, because, as one correspondent put it, "All company activities should be aligned to the enterprise strategy."
Related Articles:
Symantec's Strategy-Based Transformation
Customer-izing the IRS
10 Principles of Change Management
9. Complexity Theory (1,187; 30.6 percent): Markets and businesses are complex systems that can't be controlled mechanistically, but their emergent order can sometimes be anticipated. An understanding of the ways that complex systems evolve can help managers intervene and act more effectively. Over the years, complexity theory has come to mean a family of related, but sometimes contradictory, theories — including chaos theory, artificial life, probability theory, and even system dynamics — of intricate and nonlinear systems in which so many elements interrelate that the effects appear random and unpredictable, even though it is possible to trace patterns of causality and probability. This topic garnered several comments from enthusiasts ("The most profound thing to hit management science since the invention of money") and at least one denigrator, who claimed that managers will never make a business decision based on statistical models. If the comments we read are true, then today's practitioners of complexity theory are working behind the scenes, acting as computer-aided consiglieri, giving decision makers a more nuanced view of the potential hurricanes caused by the butterfly wings they flap.
Related Articles:
Between Chaos and Order: What Complexity Theory Can Teach Business
Complexity Theory: Fact-free Theory or Business Tool?
Power Laws & the New Science of Complexity Management
10. Lean Thinking (1,183; 30.5 percent): This type of process and management innovation is exemplified by the Toyota production system. Employees use a heightened awareness of work flow and demand to cut waste, eliminate cost, boost quality, and customize mass production. Said one anonymous correspondent, "It combines with complexity theory, emergent behavior, wisdom of crowds, disruption, and agile thinking to extend into areas like R&D to redefine innovation practices. Management thinking will need to change to address these fertile intersections."
Related Articles:
Flextronics: Staying Real in a Virtual World
Leaning Toward Utopia
The Value of Ideas
And the ideas that didn't make it into the top 10? (See Exhibit 1.) They are also noteworthy, in part because many of them are more specific, more technology oriented, and more closely related to management functions. It's as if ideas and concepts aren't deemed truly enduring unless they transcend mere functions, like R&D, IT, finance, corporate governance, marketing, and manufacturing.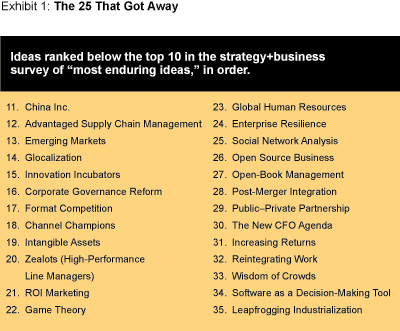 Only one group seemed to disagree: the thought leaders. Their list of most enduring ideas looked like this:
The Thought Leaders' Top 10
1. Disruptive Technology
2. China Inc.
3. Corporate Governance Reform
4. Corporate Values
5. Format Competition
6. The Learning Organization
7. Advantaged Supply Chain Management
8. Complexity Theory
9. Glocalization
10. Enterprise Resilience

Perhaps readers of strategy+business turn to management ideas for diagnosis: for help coming to terms with the problems that keep their companies from acting effectively. Thought leaders, on the other hand, seem more interested in prognosis; the future trend–gazing that makes people much better strategists. Our contributors look outward; our readers look inward, it seems.