It's one thing to sail into uncharted waters equipped with radios, radar, and a GPS system, and an entirely different thing to sail virtually blind — like 15th-century explorers equipped with only an astrolabe, quadrant, and compass. But that's the challenge business leaders have faced for the past decade: sailing into the open ocean of breakthrough strategy with inadequate tools. Sure, Columbus got lucky; en route to the Indies, he bumped into America. But business leaders don't like to rely on luck any more than mariners do. We're still a long way from radar, but the tools needed for developing differentiated strategies suitable for the hypercompetitive dynamics of our times are finally emerging.
The need for these tools has been clear since at least 1994, when Gary Hamel and C.K. Prahalad (in their book Competing for the Future, published by Harvard Business School Press) argued that successful companies must move beyond the familiar waters of established practices and develop business models unprecedented in their industries. Unfortunately, although the familiar strategy tools honed by Michael Porter (and still taught in most business schools) worked fine in sight of the land of established ways to do business, they didn't help on the open ocean of breakthrough strategy.
The authors who followed in the wake of Professors Prahalad and Hamel admonished business leaders to innovate!, get outside the box!, and change the rules of the game! These exhortations haven't proven useful. Some companies have considered innovation to be too high-risk to try, or impossible in their situation. Others believed that they were already doing everything they could to get outside the box and didn't know how to do better. Many companies interpreted innovate to mean "develop new products," a measure that typically yielded only a brief uptick in performance until competitors launched look-alike products. There were no reliable, detailed guides other than managers' own imaginations and willingness to experiment, which all too often meant dead reckoning toward a hoped-for breakthrough.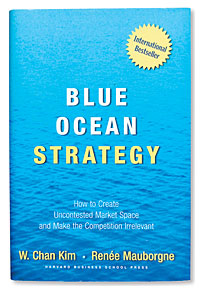 That's all changing. This year's three best strategy books — Blue Ocean Strategy: How to Create Uncontested Market Space and Make the Competition Irrelevant, by W. Chan Kim and Renée Mauborgne (Harvard Business School Press, 2005); MarketBusters: 40 Strategic Moves That Drive Exceptional Business Growth, by Rita Gunther McGrath and Ian C. MacMillan (Harvard Business School Press, 2005); and C.K. Prahalad's The Fortune at the Bottom of the Pyramid: Eradicating Poverty Through Profits (Wharton School Publishing, 2005) — offer practical tools and analogies to help practitioners. Although none of these books offer foolproof navigation, they represent dramatic progress beyond the strategy books of the past.
Blue Ocean Strategy takes an analytical approach, grounded in the authors' conviction that effective strategies must be differentiated from convention. That's what they mean by the phrase "blue ocean":
Blue oceans…are untapped market space, demand creation, and the opportunity for highly profitable growth. Although some blue oceans are created well beyond existing industry boundaries, most are created…by expanding existing industry boundaries…. In blue oceans, competition is irrelevant because the rules of the game are waiting to be set.
The key element of a blue ocean strategy is a "value innovation": a combination of differentiation and low cost that sets a product line or service apart from its competitors. Consider, for example, the story of Yellow Tail, a wine created explicitly for the U.S. market and launched in 2000 by Casella Wines, a small, family-owned Australian winery. Casella challenged the wine industry's givens: that wine is a unique beverage for the informed consumer who requires a complex, wide range of products and is best reached through marketing and brand building that drips with enological terminology.