For Professor Benkler, peer production is the wellspring of all sorts of hope. Widespread participation in Linux and Wikipedia, he asserts, could foreshadow a renewed interest in government by the people. Further, such voluntary global collaboration has the power to act "as a mechanism to achieve improvements in human development everywhere" when it is applied to reduce the high costs of agricultural and pharmaceutical innovation for the developing world.
The benefits of enhanced power of individuals and coalitions in the political, economic, and cultural realms are not guaranteed, however. Professor Benkler explains how the traditional media are deploying legal and political tactics to protect themselves from losses in the face of technological disruption. He tells us why the movie, recording, software, chip, and computer industries want to build controls into digital media equipment that limit the power of users — without, by the way, doing much to curtail the problem of piracy. The real purpose: to recentralize the control of innovation and commercial use of digital technology.
The resulting battles raging over telecommunications, copyright law, and digital-rights management will determine "the institutional ecology of the digital environment," says Professor Benkler, affecting not just what media people consume, but what forms of media people produce "as autonomous individuals, as citizens, and as participants in cultures and communities — to affect how we and others see the world as it is and as it might be." Professor Benkler makes a compelling case that too much is at stake for us to sit back and let others — particularly those in the mainstream media who stand to lose so much — decide.
Although all the books in this year's class of leading media titles tackle weighty issues — unchecked urban expansion, climate change — Professor Benkler's manifesto turns a much-needed spotlight on issues of great scope and moment that deserve far more public attention than they've yet gotten. For that reason, we've chosen The Wealth of Networks as the best book about the future in 2006.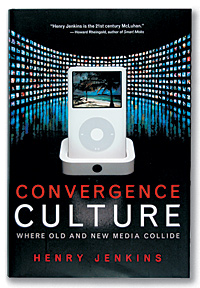 Henry Jenkins's lighter if no less serious book on media opened my eyes to the way big corporations and amateur culture producers already work together. In Convergence Culture: Where Old and New Media Collide, he describes the active participation of media consumers in the creation of cultural products, and argues that top-down and bottom-up are not colliding, but rather merging — not always at the pleasure of the major media companies.
Rather than the passive, manipulated consumers that some critics of corporate media portray, Professor Jenkins sees a culture of consumers who manipulate and build on the entertainment that they purchase from major media companies. Invoking Pierre Lévy's theories of "collective intelligence," he describes, for example, how organized online fan communities mounted global intelligence campaigns to crack the secrets of the Survivor reality television series. This is familiar turf to Henry Jenkins, the DeFlorz Professor of Humanities and the founder/director of the Comparative Media Studies program at MIT, whose previous work Textual Poachers (Routledge, 1992) dealt with fan communities that had created unauthorized alternative scenarios — entire stories, books, even films — about their favorite characters on Star Trek or Star Wars. Such convergence is not without its conflict: When Warner Brothers tried to crack down on an unauthorized online version of the Daily Prophet, the newspaper featured in the Harry Potter series, they were overwhelmed by a successful global online protest organized by the Prophet's creator and editor — 14-year-old Heather Lawver.
But some media companies have learned that there's much to be gained from playing along with these self-generated fan communities. The most successful creators of online games realized that participants would pay for the opportunity to help create their own entertainment. In online multiplayer role-playing games like the Sims, EverQuest, and World of Warcraft, the publisher determines the characters' traits and powers, but the conflicts and quests, the parties and battles, the communities that extend across media and into the physical world, the virtual economies in which players pay actual money for digital swords and other equipment, are organized and invented by the players themselves. Economists have estimated that the virtual economy of EverQuest alone is equivalent to that of Bulgaria. The extended social networking effects of playing these games with people who might be valuable social or business contacts in the physical world has led to the cliché that "World of Warcraft is the new golf."