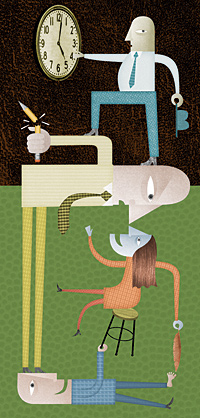 Max Barry,
Company: A Novel
(Doubleday, 2006)
Douglas Coupland,
JPod: A Novel
(Bloomsbury, 2006)
Tom Perkins,
Sex and the Single Zillionaire: A Novel
(Regan Books, 2006)
Stanley Bing,
Rome, Inc.: The Rise and Fall of the First Multinational Corporation
(W.W. Norton, 2006)
The business world suffers no shortage of great narratives, and the past 10 years have offered a particularly rich crop: Ken Lay, the country preacher's son made good, building an immense empire, only to be brought down by greed, arrogance, betrayal, and the doggedness of the Wall Street Journal. Dennis Kozlowski, regal in his excesses, using his company as an underwriter of decadent parties and absurd household extravagances, uncomprehending of his sins right up to the end. Steve Jobs, reclaiming the techno-cult that had ejected him 15 years before and again making it the greatest consumer technology innovator of our times. Bill Gates, Andy Grove, George Soros, Rupert Murdoch, all heroes of a sort in our money-worshipping world, but complex men with brilliance and drive.
Perhaps it is because the material is so rich that when we think of great business storytelling, we think of nonfiction: Michael Lewis in Liar's Poker riotously revealing the inner workings of Wall Street, or Connie Bruck and The Predators' Ball seating us on the great stage of high-stakes corporate warfare. Even the trenchant social critique of capitalism, once the province of the fiction of Sinclair Lewis and Theodore Dreiser, tends these days to take a nonfiction form. Michael Moore in Roger and Me, Barbara Ehrenreich in Nickel and Dimed — these are our watershed dramas.
When it comes to business fiction, only Tom Wolfe — in Bonfire of the Vanities and A Man in Full — truly captures modern capitalism and its singular culture, the comic marriage of great wealth and power on the one hand and human vanity and superficiality on the other. The bankers working the overextended property developer in an Atlanta conference room, with a laserlike focus on the ultimate goal: the "saddlebags" of underarm sweat that will confirm they've got their man. Now that's storytelling!
Mr. Wolfe, of course, is partly a satirist, and it is in satire that this year's crop of business fiction makes its mark. It's by and large pretty light stuff, making the most of the many easy targets provided by corporate culture, and sitting easily within the hackneyed Hollywood setup of evil corporation versus earnest working man. But there are some good laughs to be had there.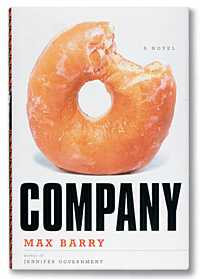 Nailing the Salesman
Company, by Australian novelist Max Barry, features a donut on the cover, but lest you think the book is a parody of Krispy Kreme (as with the great nonfiction narratives above, that story is so over-the-top it's hard to mock), the donut in fact represents the flashpoint of intradepartmental war at a big company called Zephyr Holdings. Somebody in the training sales department has taken an extra donut at the morning meeting, leaving a colleague without. Or perhaps it was food services that didn't leave enough? Whatever the case, the stakes are high, or at least they are for the obnoxious and scheming Roger. Little does he know that his campaign to find, and have fired, the perpetrator will soon be rendered meaningless by a larger conflagration ignited by a newcomer named Jones.
Jones, a sales assistant with a fresh MBA, comes to discover that all of the customers of the training sales department are other departments of Zephyr Holdings, and he finds this rather curious. Egged on by his sister, a sort of deus ex machina of rationality, he sets out to discover what Zephyr Holdings really does. When he finds out, and is recruited to be a double agent for management by a sexy blond executive masquerading as a receptionist, all sorts of extreme corporate hijinks ensue.