Simply globalizing one's innovation footprint, however, will not guarantee success. Companies must be careful about where to deploy their R&D resources, keeping in mind where the best talent can be found and which markets they want to enter. And there are operational challenges in performing R&D overseas: Too much fragmentation of effort, for instance, can undermine the large investments in infrastructure and technology that a gloal footprint requires, and can cost companies greatly in lost collaboration. The virtues of a global innovation strategy are real, but so is the need to execute that strategy intelligently and to track the benefits.
Given these factors, it is no wonder that cutting costs is fast receding as the primary motive for sending R&D overseas. The rapid pace of globalization over the past several decades has created a complex and highly dynamic business environment; every corporation must bring to its market strategy a multinational perspective. Corporate R&D represents a significant part of that shift. As this year's Global Innovation 1000 study demonstrates, companies around the world have already invested heavily in aligning their innovation efforts with the global strategies they have adopted to pursue profitable growth.

Profiling the 2007 Global Innovation 1000
The companies in the Global Inno­vation 1000 spent a total of US$492 billion on R&D in 2007, a 10 percent increase for the year — and well over the 6.7 percent compound annual growth rate on such spending that our data reveals since 1999. For the second year in a row, the #1 spender on R&D was Toyota Motor Company, with a budget of $8.4 billion, up 7.6 percent from 2006. At the other end of the list, coming in at #1000, Dongbu HiTeck Company, a Korean chemical enterprise, spent $53.4 million on R&D. The vast difference between those two numbers (Dongbu HiTeck's R&D spending is less than 1 percent of Toyota's) suggests why the top 20 companies account for more than a quarter of the total spent by the Global Innovation 1000, and the top 100 companies account for 63 percent of the total.
The total 2007 R&D spending of the Global Innovation 1000 represents 80 percent of all corporate R&D spending of $613 billion, we estimate, and 50 percent of total worldwide R&D spending, including that of governments, which was $982 billion. (See Exhibit 4.)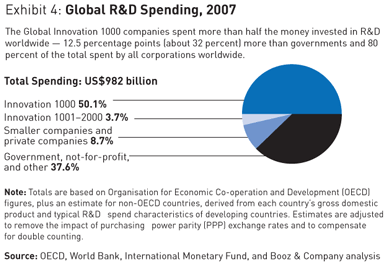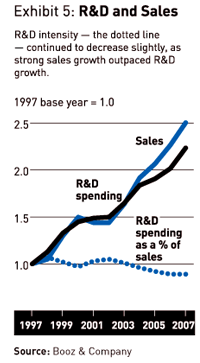 Revenues for the Global Innovation 1000 companies were $13.2 trillion in 2007, an impressive increase of almost 12 percent over last year's total. But, because sales grew two percentage points faster than R&D spending, the "intensity" of spending — R&D spending as a percentage of sales — decreased this year, to 3.7 percent from 3.8 percent in 2006, continuing a 10-year downward trend. (See Exhibit 5.)
Of the top 20 R&D spenders, the Nokia Corporation upped its spending by 9 percent, thanks to its joint venture with Siemens AG's mobile phone division, thus dropping Siemens's R&D spend to #21. The only other company to fall off the top 20 list was DaimlerChrysler, after the sale of the Chrysler division. That allowed AstraZeneca and the Sony Corpo­ration to rejoin the list. (See Exhibit 6.) For the third year in a row, three industries — computing and electronics, health care, and auto — led R&D spending among the Global Innovation 1000, representing two-thirds of the total. Computing and electronics continued to lead, increasing spending 8.5 percent over last year, to $142 billion, for a 29 percent share of the total, even though R&D spending as a percentage of total sales remained steady, at 7 percent. Health care boasts the second-largest share, at 22 percent, though its R&D intensity is significantly higher, at 13.4 percent of sales. Auto holds the number three position, with 16 percent of the total; R&D spending rose 8 percent in 2007, well above the industry's 3.7 percent five-year compound annual growth rate. Still, the sector with the greatest proportion of R&D spending to sales continues to be software and Internet, at 13.6 percent, driven in part by a 15.6 percent increase in R&D spending, the largest of any industry. (See Exhibit 7.)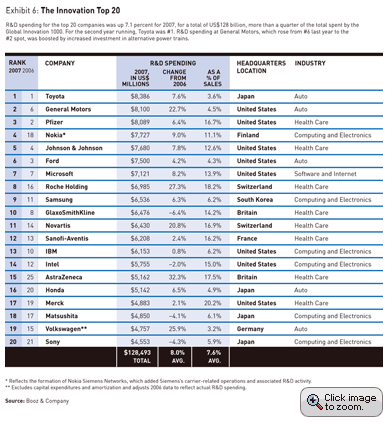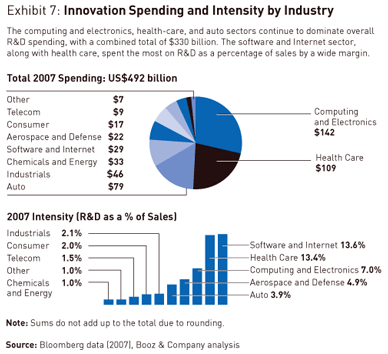 As noted in the article, companies headquartered in the three major regions — North America, Europe, and Japan — accounted for 94 percent of the total R&D spending of the Global Innovation 1000, down 1 percent from last year. That's in part because countries headquartered in Europe boosted spending by 12 percent (versus the global average of 10 percent), increasing their share of global R&D spending to 31 percent. Although companies headquartered in China and India remain tiny by comparison, contributing just 1 percent of the Global Innovation 1000's total spending, they increased their R&D spending by more than 22 percent in 2007, far outpacing the worldwide five-year compound annual growth rate of 5.6 percent. (See Exhibit 8.)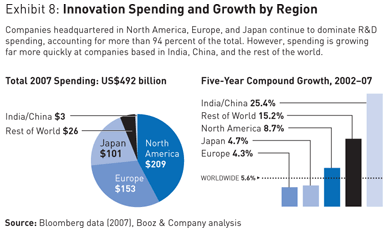 The point of these trends is clear: whether looked at as a whole, by region, or by industry, the Global Innovation 1000 companies are continuing to demonstrate their belief in the importance of innovation to their overall strategies. Their challenge, as always, will be to make sure all those billions of dollars are spent effectively.
— B.J. and K.D.