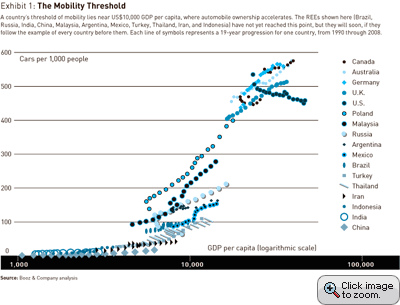 How will the global recession affect this pattern? Indicators so far suggest that it will underscore the importance of the REE market. Growth in these countries, although now slower than it was before 2008, is still outpacing growth anywhere else in the world, especially among the demographic of first-time vehicle owners.
Thomas Friedman's concept that "the world is flat" allowed many businesspeople to assume that they could adopt one business model for every region around the world. But as IESE Business School professor of global strategy Pankaj Ghemawat has pointed out, the world is actually "semiglobal." Emerging markets require a variety of strategic approaches that fit into an overall strategy, including making difficult decisions about which markets to avoid. Vehicle manufacturing is a high-profile industry that generates enormous revenue, employs millions of people, and is often a proxy for a nation's manufacturing prowess and economic influence. Governments are extensively involved in regulating or influencing virtually every aspect of the product and the way the industry operates — including setting emissions and safety standards, licensing distributors, and setting tariffs and rules about how much manufacturing must take place locally. This reality makes the job of understanding each market and appreciating the differences more vital. For example, a summary overview of the BRIC nations reveals the differences among these markets and the operating complexities in all of them.
Brazil is the Western Hemisphere's leading member of the REE club (the next most prominent members are Mexico and Argentina). It is relatively small in population, with 188 million people (by comparison, China and India each have more than 1 billion). Yet car usage is already relatively high: 104 cars in use per 1,000 people, nearly 10 times the rate of usage in India, according to the Economist Intelligence Unit. Because of this, growth projections for Brazil are relatively low, more in line with developed nations than with the other REEs. According to the industry research firm Global Insight, sales will grow just 2.0 percent from 2008 to 2013, underperforming even the U.S. market's 3.2 percent growth rate.
Nonetheless, there is much to recommend Brazil as an auto market. It is socioeconomically stable, with increasing wealth and a maturing finance system that is helping to propel growth among rural, first-time buyers who prefer compact (or B-segment") cars. Few domestic brands exist; the market is dominated by GM, Ford, Fiat, and Volkswagen. Prompted by generous government incentives, high import taxes, and exchange rate risks, foreign VMs have invested significantly in Brazil, which has thus become an unrivaled production hub for the rest of South America. Brazilian consumers live in a country with large rural areas and very rough terrain; they demand fairly large, SUV-like cars, made with economical small engines and flex-fuel power trains friendly to the country's biofuel industry. When a Latin American family buys its first automobile, chances are it was made in Brazil.
Russia, with 142 million people, is the smallest of the BRIC countries in population. It has the highest auto adoption of the four: 213 cars in use per 1,000 people. (Western Europe, by comparison, has 518, according to the Economist Intelligence Unit.) Yet Global Insight expects future sales growth to average 6.5 percent from 2008 to 2013 — far outpacing Brazil (2.0 percent), western Europe (1.2 percent), and Japan and Korea (0.2 percent).
Given Russia's proximity to Europe, consumer preferences there are more akin to those of the developed markets than to those of China or India, and expensive, status-enhancing European models remain popular — although European safety features, interior components, and electronics are often stripped out to reduce costs. For VMs, the attractions of the Russian market include an absence of both local partnership requirements and significant local competitors. But there is high political risk. So far, the Russian government has permitted foreign VMs, but the Kremlin's history of meddling in private enterprise and undercutting private ownership worries some executives. These concerns were heightened in November 2008, when Russia implemented tariffs against car imports in hopes of avoiding layoffs that might spark labor unrest among the country's 1.5 million car industry workers.