India has 1.1 billion people within its borders, but its level of car adoption is relatively low, with only 11 cars in use per 1,000 people. The upside to that low penetration is higher potential growth. Of all the REEs, India is expected to have the fastest-growing auto sales, 14.7 percent from 2008 to 2013, according to Global Insight. Sales of subcompact cars are strong, even during the global recession. The popularity of these small cars combines with India's energy shortages and the country's chronic pollution to give foreign VMs an ideal opportunity to apply electric power-train technologies there.
Until the early 1990s, foreign VMs were mostly shut out of India. (The period from 1947 to 1990 was known as the License Raj for its elaborate corporate licensing requirements, its protectionist regulations, and its restrictions on business.) That has changed radically; today, foreign VMs are welcomed. The government promotes foreign ownership and local manufacturing with tax breaks and strong intellectual property protection. And since the License Raj era gave local VMs time to develop, India has capable manufacturers and suppliers, which provide talented partners for foreign VMs. Local competition is strong, but it is thus far concentrated among three players: Maruti Suzuki India Ltd. (the most successful to date), Tata, and the Hyundai Corporation, which is well established in India.
China stands out among the REEs. It is almost as large as the other three combined in total auto sales and production. Its overall auto usage is just 18 cars per 1,000 households, but its expected auto sales growth, from 2008 through 2013, is 8.3 percent. Its size and growth potential make this country a game-changer; if a significant number of its 1.3 billion people want a certain type of vehicle, some VMs will produce it and it will thus become available elsewhere. China's auto sales are expected to accelerate in the next few years, as the new urbanites of rapidly growing cities in the vast "under-motorized" interior begin buying compact and subcompact cars. (China has more than 140 cities with populations of more than 1 million.)
The Chinese government plays a central role in shaping the auto industry. Ownership policies mandate that foreign VMs enter into 50/50 joint ventures with local automakers, and poor intellectual property rights enforcement puts the design and engineering innovations of foreign VMs at constant risk. At the same time, to cope with energy shortages and rampant pollution, the Chinese government is strongly encouraging R&D on alternative power trains, including electric cars and gasoline–electric hybrids. As a result, VMs from China may develop significant power-train capabilities ahead of their competitors.
Like their Indian counterparts, VM aspirants in China have outpaced global automakers in developing cars specifically for emerging markets. A few global VMs are competitive, like Volkswagen AG, which has sold its Santana models in China through a joint venture (Shanghai Volkswagen Automotive Company) since 1985. Some Chinese VMs, like BYD Company, aspire to become global leaders in the industry. But many suffer from a talent shortage and inexperience in managing across borders. This may prompt them to acquire all or part of distressed Western automobile companies in the near future or to hire skilled auto executives from established VMs and suppliers.
In short, each of the four BRIC nations has a completely different set of market and industry dynamics. And the same is true for the remaining REEs. Meanwhile, the number of autos in use in the REEs is projected to expand almost sixfold by 2018. (See Exhibit 2.)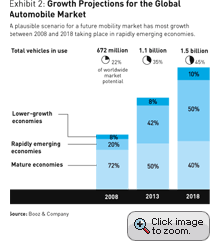 And what of the other two parts of the global auto market? In the mature economies of industrialized nations, the credit crunch is preventing many consumers from buying new cars and is denying short-term financing to many companies. The market also suffers from a glut of motor vehicles. Auto sales fell a precipitous 36 percent in 2008 in the United States, which had long been the world's largest motor vehicle market. (In late 2008, for the first time, China surpassed the U.S. in the number of automobiles sold per month.) U.S. sales are not expected to rebound much in 2009 or soon thereafter, and auto sales will also remain flat in Europe and Japan for several years.