Motherhood and Snapple Pie
by Rob Hertzberg
If capabilities-aware M&A often succeeds, deals that ignore capabilities usually flop — sometimes spectacularly. Here are four infamous M&A failures of the last two decades. See if you can match the disasters to the rationales for the deals, which are taken from either the original press release or a senior executive's comments to the media. (The text has been edited slightly to remove spoilers.)
DEAL

1. Quaker Oats bought Snapple (1994)

2. Bank of America bought Merrill Lynch (2009)

3. America Online bought Time Warner (2000)

4. Cisco bought Pure Digital Technologies, makers of the Flip video camera (2009)

RATIONALE PROVIDED

A. "This is a once-in-a-lifetime opportunity to turn promise into reality. We're creating a unique new company that has unparalleled assets and the ability to have a profoundly positive impact on society."

B. "The acquisition exemplifies our 'build, buy, and partner' innovation strategy to move quickly into new markets and capture key market transitions."

C. "This is a great opportunity for our shareholders. Together, our companies are more valuable because of the synergies in our businesses."

D. "This deal brings together the marketing muscle and growth potential of two of the great brands in America."

Answers: 1-D; 2-C; 3-A; 4-B
If consideration of capabilities fit should drive companies' decisions on what to add through M&A, it should also drive decisions on what to sell. Indeed, capabilities fit helps explains the spin-off and divestiture discussions that preoccupied many big companies in 2011 — including Fortune Brands' sale of its home and security business (so it could focus on whiskey and other spirits), Kraft's announced division into separate snack food and grocery businesses, Sara Lee's divestiture of its fresh bakery and food service businesses, and ConocoPhillips's decision to turn its upstream and downstream oil businesses into two separate companies.
Indeed, it seems likely that mature industries evolve through this type of capabilities migration. Businesses are naturally drawn to the capabilities systems in which their products and services can best thrive, with M&A opening the pathways. Over time, this leads to consolidation: not around assets, as the conventional wisdom would suggest, but around distinctive capabilities systems.
Bringing Capabilities Home
The results of this study suggest that a CEO — generally used to relying on financial considerations in evaluating M&A — should look every deal prospect up and down from a capabilities perspective. (See Exhibit 3.) This lens isn't used often enough, perhaps because capabilities are not on the strategic radar for many companies, either in the boardroom or on Wall Street. They are seen as functional matters, not as fundamental levers of value creation that can make the difference between success and failure for a corporate direction.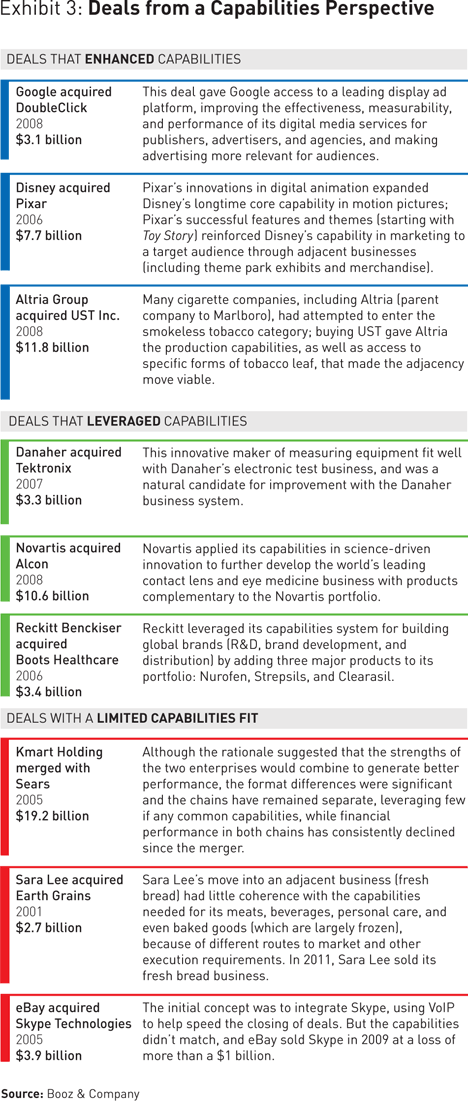 Board members and investment bankers are used to focusing on financial questions when evaluating a deal: How much of a premium is justified? Does it make sense to use debt? Will the deal be accretive or dilutive? What short-term cost synergies can it drive? Questions like these, although often urgent, tend to draw attention away from strategic issues toward transactional concerns (which are, after all, often the primary concerns of a traditional due diligence process). These types of questions may also stem from narrow visions of a company's future direction — visions that don't take into account the capabilities system and strategy that underpin the company's success.
By contrast, a capabilities-oriented assessment will involve everyone, including the board and major shareholders, in thinking more fruitfully about the long-term value of deals. This type of assessment is best conducted throughout the M&A process. In the strategy and screening phases when a business case is being made, during valuation, and again during due diligence, the following questions are relevant: