"Blur" by Stan Davis and Christopher Meyer
Blur: The Speed of Change in the Connected Economy by Stan Davis and Christopher Meyer (265 pages, Addison-Wesley, 1998)
(originally published by Booz & Company)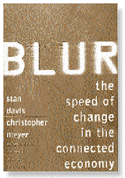 From Dale Carnegie to Stephen Covey, Frederick Taylor to Michael Porter, readers of business books have been stuffed with a fistful of prescriptions for success. Books are distilled down to a handful of key points or simple models. "This is the way to do it," promises the expert author. "Believe me. I have the case studies to prove that it works." In most business books, there is little room for the vagaries of reality, the inherent messiness of business life. Publishers appear to believe that readers want the clinical assurance of bullets (those markers used to set off important points). They relish tidiness and order. They want the certainty of being told what to do.
The trouble is that lists of the essential ingredients for success are becoming increasingly questionable. At a time when uncertainty is a universal business experience — whether you are in Tokyo, Munich or Dallas — the certainty of prescriptions has the hollow ring of a placebo. Bullets have become meaningless wish lists. Tidiness and order (if they ever existed) are elusive.
Without their backbone of certainty most business books collapse in a heap. Uncertainty is uncharted territory. For the first-time traveler, the trip is bedeviled by ambiguity, abstract thoughts, unusual metaphors and a distinct unwillingness to launch into a short and sharp diagnosis followed by an equally pithy prescription.The journey is hard and likely to leave the reader with more questions than answers.
Stan Davis and Christopher Meyer's Blur is a book of the new breed. Nowhere is this more evident than in the book's title. Blur would not even have been considered as a possible title just a few years ago, when blind faith and certainty ruled. It would have been too weak, too suggestive of managerial confusion and impotence, too realistic.
For a book about the future, Blur is injected with a healthy supply of realism and honesty. Mr. Davis and Mr. Meyer are candid about their lack of answers: "We are not offering the ultimate word on our topics, but a starting point: provocative ideas, observations and predictions to get you to think creatively about your business and your future." There are an array of questions, delivered with a suggestion of urgency in keeping with the authors' central themes. The reader is speedily referred to the book's accompanying Web site to join in the "conversation." (In the information age, this is a laudable initiative, but one slightly spoiled when you discover that the Web site is essentially another publicity vehicle rather than a world of ideas beyond the book.)
As guides to the future, Mr. Davis and Mr. Meyer are well equipped. Mr. Davis is the author of 2020 Vision and Future Perfect. Mr. Meyer heads Ernst & Young's Cambridge, Massachusetts-based Center for Business Information (C.B.I.), where Mr. Davis is a research fellow. C.B.I. is a research and development organization that seeks to identify the issues that will be challenging business in the future and defining responses to them. Mr. Meyer also established the Bios Group, Ernst & Young's initiative to develop complexity-based solutions for management.
At the heart of Blurare three forces: connectivity, speed and intangibles ("the derivatives of time, space, and mass"). According to Mr. Davis and Mr. Meyer, these three "are blurring the rules and redefining our businesses and our lives." They are destroying solutions — such as mass production, segmented pricing and standardized jobs — that worked for the relatively slow, unconnected industrial world. The three forces are shaping the behavior of the new economy. They are affecting what Mr. Davis and Mr. Meyer label "the blur of desires, the blur of fulfillment and the blur of resources."
The "blur of desires" has two central elements: the offer and the exchange. These were once clear-cut. In the product-dominated age, a company offered a product for sale. Money was exchanged and the customer disappeared into the distance. Now, products and services are often indistinguishable from each other and buyers and sellers are in a constantly evolving relationship ("mutual exchange"), which is driven by information and emotion as well as by money.
The second aspect of the new economic reality is "the blur of fulfillment." As organizations change to meet changing demands, so must the entire theory and practice of competitive strategy. Connectivity produces different forms of organization operating with different first principles. "The blur of businesses has created a new economic model in which returns increase rather than diminish; supermarkets mimic stock markets, and you want the market — not your strategy — to price, market, and manage your offer," the authors state.
The third leg to the economic stool is that of resources and the emergence of intellectual capital as the key resource. Hard assets have become intangibles; intangibles have become your only assets.
Blur portrays an unsettling world. Strangely, the disturbing element at its core is not the one you most expect. "Built to last now means built to change," say Mr. Davis and Mr. Meyer. But change, and the ambiguity it brings, no longer carries the huge weight it did only a few years ago. We may lament the rapidity of change, but it was ever thus — a point reinforced when the authors quote Joseph Schumpeter's definition of capitalism as "gales of creative destruction." The gales have been howling since time immemorial.
The surprisingly disturbing thing about Blur is the concept — and fast emerging reality — of connectivity. Understanding connectivity is like coming to terms with the childhood revelation that we are all, somewhere along the line, related. A whole new family suddenly emerges before you go on to ponder the awful impossibility of it all. In the information economy mapped out by Mr. Davis and Mr. Meyer, small things are connected in a myriad of ways to create a "complex adaptive system." Instantaneous, myriad connections are speeding the economy up and, more critically, changing the way it works.
The trouble is that the connections are so many and so complex, that they can bring things to a grinding, inexplicable halt. "The stock market crash of October 1987 was caused by computerized trades, none of which were linked explicitly. The damage was done by the interaction of independent investor instructions — a kind of connected network of trading programs," write Mr. Davis and Mr. Meyer. So, the stock market crash was not a frenzy of capitalism, but a connectivity short circuit.
The randomness is disturbing, but the reality so poignantly mapped out by Mr. Davis and Mr. Meyer in "Blur" is one without safety nets. There is, therefore, a sense of relief when you read that the authors are keen to gather "Blur-inspired ideas" from readers and that the best received every month through 1998 will receive $100. Some things do not change.