Masco has had many similar successes. "In many cases, it's just a matter of sitting down and saying, 'Here's the problem we want to solve,'" Nealssohn says. "What really differentiates us is our willingness to partner with customers, to try not only to understand what issues they're struggling with today, but to anticipate issues that may arise as a result of what we see going on in the world around us." That strategy, in turn, demands that Technology Drivers like Masco also focus on rigorous decision making in R&D portfolio trade-offs at the project selection stage, if they are to funnel their wide-ranging ideas into products that can succeed in the market.
Finally, because of the nature of their products, Technology Drivers must pay strict attention to two key capabilities in the commercialization stage: pilot-user selection/controlled rollouts, and product life-cycle management. In essence, Masco serves three different sets of customers: large home builders, home improvement chains, and ultimately, end-users. Says Nealssohn: "We believe that everyone in the distribution chain has to win. A shift of margin from one partner in the chain to another does not necessarily equate to a winning product. So it doesn't matter how much the customer wants the product — if the distributor or the home builder doesn't see the opportunity to make money, chances are that product is going to struggle or even fail."
Focus Matters
The capabilities required to pursue each strategy form a systematic set of skills, processes, and tools that companies must focus on to succeed at each stage of the innovation process. In contrast to top-performing innovators such as Apple, Google, Xerox, Visteon, and Siemens, the poorest-performing companies within each strategic group — those among the bottom 25 percent — take a less-focused approach to the most critical innovation capabilities.
These lower-performing companies, regardless of which of the three strategies they are pursuing, cite only three common capabilities as important: early customer insight, assessment of market potential during project selection, and engaging with customers at the development stage. Although all three of these capabilities involve critical customer- and market-driven elements, they are not sufficient; they need to be integrated with more distinctive capabilities, such as awareness of new technology developments and close attention to product platform management. Notably, there is significantly less overlap among the capabilities that low-performing companies depend on. This suggests that these companies take more of a scattershot approach to building the innovation capabilities systems they need. This lack of focus, we believe, is a primary cause of their inferior performance.
Focusing on a systematic set of capabilities means that companies must first choose the capabilities that matter most to their particular innovation strategy, and then execute them well. Our analysis suggests, however, that although most companies are relatively strong at executing critical capabilities within the areas of ideation, project selection, and product development, they underperform at the commercialization stage. (See Exhibit 10.) Executives agree consistently that there are three customer- and market-oriented capabilities that matter most: Gathering customer insights during the ideation stage, assessing market potential during the selection stage, and engaging with customers during the development stage. Yet when it comes to the capabilities needed to introduce their products into the market, there is no single one consistently named as a strength. Clearly, there is a substantial gap between most companies' ability to create innovative new products and their ability to successfully take them to market.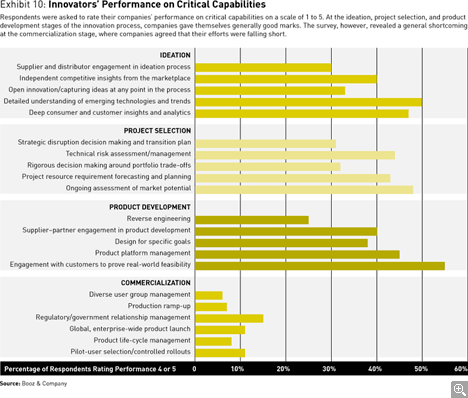 In commercialization, the top performers stand out by executing well in two critical areas: global product launches and pilot-user selection and rollout. This should come as no surprise, given that commercialization capabilities are by nature the most cross-functional, and are tied tightly to several other capabilities companies need to succeed in the marketplace, including manufacturing, logistics, sales, and marketing. Xerox's Hoover acknowledges just how important the company-wide process of launching products in the marketplace is in the ability to capture the business value of innovation. "What do we have to get done, and when, so that we can feed the new product into the global operating companies' pipeline, and what do they have to have ready so they can push it out? It's really basic project management, but it has to be executed really well."