Welcome to the Nate Silver Business Model
ESPN's new formula for personal presence could show individuals and companies how to build brands that complement each other.
(originally published by Booz & Company)
Since the dawn of the consumer Internet, established media enterprises have been struggling to fully embrace the personal brands of the popular individuals who write or produce for them. Case in point: Andrew Sullivan. One of the Web's first independent blog superstars, Sullivan took a Homeric journey from Time to the Atlantic to Newsweek/Daily Beast, before finally winding his way back home to running his own branded space, ultimately absent a corporate owner.
In spite of Sullivan's huge following, none of his adoptive corporate parents could figure out how to sustain a long-term relationship between his big personal brand and their existing publishing models. Apparently, the people who gravitated toward Sullivan tended to read no further; those who preferred the magazines he wrote for often didn't follow Sullivan. This undermined the potential advertising premium that was the original rationale for bringing them together.
But a strategy taking hold in the world of sports media offers new hope for a permanent reconciliation between personal and corporate news brands. Or at least it might.
With Bill Simmons's Grantland (owned by ESPN) and Peter King's TheMMQB.com (owned by Sports Illustrated), we have seen the emergence of spin-off partnerships that combine the attraction of personal reputations with the breadth and power of corporate-scale marketing. Several factors distinguish Grantland and TheMMQB.com from the models that failed with Andrew Sullivan. First, the Grantland and TheMMQB projects grew organically out of a long-term relationship between the corporate brand and the individual. Simmons and King built their reputations as contributors to the parent company, not independent of them. Second, although the new properties do leverage the brands "Simmons" and "King," respectively, each also includes a range of other contributors who bring their own voices to the platforms. Grantland is not "all Bill Simmons all the time." It is a multifaceted media property in its own right, but one that embodies the spirit of its founder and editor-in-chief. That's actually a tried and true model for launching new media assets—similar to Oprah's O or Martha Stewart Living.
These relationships seem to work, at least when there are enough resources behind them—and a lead figure who appears regularly both in his or her personal spin-off and in the legacy enterprise channel. By continuing to participate in their owners' core programming, these media stars create a virtuous circle: providing direct value to the parent while continuing to broaden their own reputations and driving greater interest in their properties.
All of which brings us to the recent announcement that Nate Silver is leaving the New York Times for Simmons's home, ESPN (and, thus, reconnecting to his sports roots). The conversations that led to this marriage doubtlessly included a great deal of focus on Grantland, as it appears to be the model Silver and ESPN will follow. In the coming months, ESPN and Silver will relaunch Silver's website FiveThirtyEight.com under the ESPN umbrella. But unlike his nearly-sole-proprietor arrangement with the New York Times, in the new iteration "Silver will serve as editor-in-chief of the site and will build a team of journalists, editors, analysts and contributors in the coming months," according to ESPN's announcement of the deal. In other words, just like King's TheMMQB.com and Simmons's Grantland, Silver will not just offer his own comments and opinions. He will convene others and build a center of interest.
This model seems to work well in sports, so why not apply it across the news-media landscape? Let's look more closely at the circumstances that have enabled it. We sports fans—well, not all of us—tend toward the obsessive. We expend obscene amounts of time and untold subscription fees to feed our passion, enhance our waging success, and gain an edge in our fantasy leagues. When a sports writer or analyst captures our fancy, we happily overindulge.
But there is another factor at work here. The Grantland site bleeds beyond sports into other domains. In this way, Grantland attempts to fully mine the value of the Simmons's brand—part of his appeal has always been how he weaves popular culture into his work. One would imagine that Silver's relationship with ESPN will push the model even further, connecting sports to economics and politics, with Silver—like Simmons—playing the dual role of corporate-network personality and editor-in-chief of his own property.
The three-way combination of powerful personal brands, strong corporate support and the passion-fueled built-in audience creates the opportunity for these new ventures to gain traction. The unique personalities and interests of their founders give them the chance to retain that audience for the long haul.
Are there other individual stars who carry the brand weight in the right kind of topic area to launch their own thing? The answer to that question is certainly yes. Walt Mossberg and Kara Swisher's gadget-obsession-fueled All Things Digital has grown into a recognizable franchise within the Wall Street Journal brand.
A deeper question is: Can the right type of personality and franchise create an obsessive topic area where it didn't exist before—say, in conventional urban journalism or in business news or even in the kind of service reporting that attracts people to a management-oriented website? That may be the crux of the media challenge during the next few years: to attract the obsessive and make it normal. Few partnerships have demonstrated their ability to do this so far, but ESPN, in particular, appears to be giving it a solid go. It would be interesting to see if Entertainment Weekly or E! could make this work with, say, the next Siskel and Ebert, whomever they may be—or less obviously, if the New York Times could crack the formula when it comes to providing a window on current events.
Recommended stories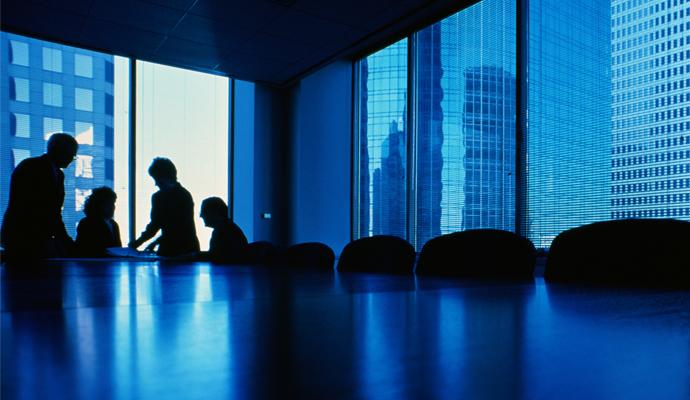 A new book suggests that the ways in which CEOs define the relationship between politics and business will shape our world in the future.