A School for Displaced Workers
With industries contracting and jobless rates among manufacturing workers skyrocketing, community colleges have become the new home of retraining programs.
(originally published by Booz & Company)
Ben Venue Laboratories Inc. is hiring. That, in itself, is a story. Located in the U.S. Midwest, where unemployment is approaching 20 percent in some areas, the maker of freeze-dried and injectable pharmaceutical products employs 1,200 people and is looking for at least another 100. The Bedford, Ohio–based manufacturer is one of the largest employers in the fledgling biotechnology and pharmaceutical corridor that industrial development authorities are trying to establish between Cleveland and Pittsburgh.
Considering recent severe job losses in its backyard, it would seem that Ben Venue's search for workers would be a relatively easy task. But it's not. Virtually none of the workers displaced from the auto, plastics, tire, or steel industries have the skills required to make drugs in sterile environments that meet U.S. Food and Drug Administration guidelines.
So Ben Venue process control manager Phil Mills has turned to Cuyahoga Community College's Corporate College to develop a 160-hour course on pharmaceutical manufacturing for people interested in jobs at Ben Venue or other local drug companies. Mills and a team of five Ben Venue employees advised the community college (known as Tri-C) on what kind of equipment to buy for the courses — devices and apparel similar to those used in the company's labs. The classes were first offered in mid-2008. "We're trying to create a labor pool with some initial knowledge of what the pharmaceutical industry is all about," says Mills, who also teaches some of the courses. Ben Venue has just hired its first graduate from the program.
This effort is one of hundreds under way at the nation's 1,200 community colleges. Thanks to a wave of workers, mainly in their 40s and 50s, who have been displaced from industrial jobs because of automation, the emergence of increasingly complex products that require more skilled manufacturing techniques, or foreign competition, a debate is simmering in the U.S. about the role employers should play in helping to retrain workers. By and large, companies have been skittish about spending heavily on retraining programs because they are an expensive proposition with limited returns; in fact, the smartest workers who get the most out of the training can parlay it into higher-paying jobs at competing enterprises. As a result, companies are more than happy to let community colleges fill the vacuum.
The Tri-C program has a wide range of relationships with local employers. The Cleveland Clinic works with the school to teach job seekers the ins and outs of the medical and health-care fields. And in Tri-C's Green Academy, former General Motors die makers are learning about manufacturing processes in solar energy plants producing photovoltaic cells. In a similar vein, Tri-C's joint effort with Ford Motor Company drives a curriculum that teaches skills needed at the automaker's Brook Park, Ohio, plant, which is gearing up to make a more energy-efficient engine called the EcoBoost. The program has an annual budget of about US$20 million, which comes from federal, state, and local governments as well as private foundations.
Similar efforts are being made in Texas, where four community colleges affiliated with Texas State Technical College are offering training in advanced fields ranging from robotics to biotechnology. In addition, enrollment in California's community college system increased by 135,000 students this year, to a total of 2.9 million, partly because of a rush of displaced workers seeking certificates and degrees, particularly in environment-related fields.
President Barack Obama gave a big boost to these programs in July 2009, when he traveled to Macomb Community College in hard-hit Warren, Mich., and proposed $12 billion in new federal funding for community colleges. The administration has emphasized that a key purpose of the funding request, which is still pending, is to increase worker training.
Many attempts to use training to cushion the blow of job losses have been made in the past, but most have had little success. As early as 1962, a program known as Trade Adjustment Assistance (TAA) was put in place to help workers who lost their jobs as a result of increased imports to the U.S. or shifts in U.S. production to other countries. But TAA has had to make do with minimal budgets most years, and has not had a great impact. During the 1990s, the debate over the North American Free Trade Agreement (which critics like H. Ross Perot said would create a "giant sucking sound" of jobs headed to Mexico) included calls by labor advocates for better worker retraining efforts. But again, little progress was made.
The U.S. Department of Labor's track record isn't any better. The agency funnels money to local workforce boards, but they are rarely equipped to offer retraining, and critics charge that they are overly bureaucratic. "Federal agencies spend 90 percent of their energy on protecting their turf and only about 10 percent of their energy on doing the job they're supposed to do," says Kenneth Ragsdell, an engineering professor and an expert on industrial training at Missouri University of Science and Technology. Ragsdell, who has been a labor consultant for GM, IBM, Xerox, and Deere, says the local workforce boards lack contact with real employers and therefore don't know what worker skills are most needed.
Workforce boards frequently refer displaced workers to other programs, such as privately run vocational schools or occupational training centers. However, too many of these institutions offer degrees or certificates that are not recognized by employers, leaving workers even more confused about what to do. "If I want retraining, why should I have to go to a third party?" says Craig Follins, executive vice president of Tri-C's workforce and economic development division. "There needs to be a way of delivering the services quicker."
Tri-C, which serves more than 18,000 students a year, is considered particularly effective because it has committees of employers that help guide the curriculum for each retraining program, ensuring that the classes are customized to provide skill sets that companies are actually looking for. "We [community colleges] are going to be the retraining providers for most of the folks who have been misplaced," Follins says. "We're nimble. We're malleable." In addition, skilled executives from the private sector are recruited to teach courses. Ben Venue's Mills teaches at Tri-C part time, but John Gajewski, a former executive at General Electric, Emerson Electric, and Berkshire Hathaway, came out of retirement to run Tri-C's training for advanced manufacturing, biosciences, engineering, and skilled trades.
Gajewski says workers who have been displaced need to gain more than just math or technical skills. "The technical content is fairly straightforward — it's the people skills and the employability skills that take a little bit of creativity, because [those skills] are not scientific," he says. Many workers coming out of an older industrial setting, he notes, don't understand the importance of teamwork and communications in newer, more flexible manufacturing systems, so his instructors teach groups of workers how to interact together on a project.
Another piece that's missing from many retraining programs, Gajewski says, is counseling to help the displaced deal with the raw emotions caused by what has happened to them. "What we need to work through with them is any kind of resentment or anxiety they have in making a career change," he explains. "A laid-off worker has had some damage done to their psyche and their self-esteem. We need to do some work on that."
Add it all up and it does seem that community colleges have critical advantages — direct connections with employers, accredited technical training that is combined with counseling for those who want it, and knowledgeable faculty. No one would argue that the programs being offered by community colleges are big enough and numerous enough to retrain all the workers being displaced. But they are clearly demonstrating a model that could help businesses find the kinds of workers they need for the jobs that otherwise might go unfilled.

Recommended stories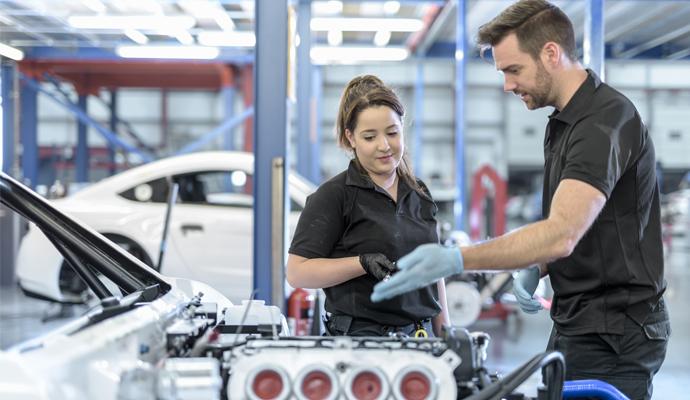 When the paint shop leadership team for carmaker Audi initiated a change process, they decided to trust the power of questions.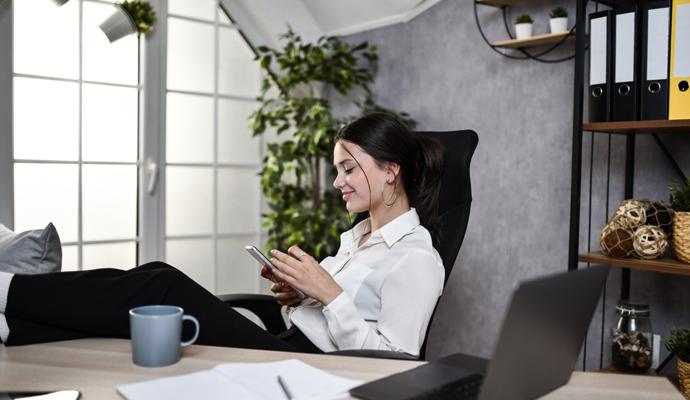 Watching the clock drags performance down, and optimism about the future does the opposite. Managers who understand this can help boost engagement.