The Gorilla of Agile Business Innovation
Corning Glass Chief Technology Officer David Morse explains how the company—through speed and customer focus in research, development, and engineering—has built a multibillion-dollar enterprise.
(originally published by Booz & Company)
At a time when many companies have cut back on their business innovation expenses to pump up their bottom line, Corning Inc. spends nearly 10 percent of revenue on what it calls RD&E: research, development, and engineering. In 2013, it will spend more than US$700 million on RD&E. Again and again over the years, Corning has reinvented itself with products—including optical fiber, liquid crystal display glass substrates, and durable Gorilla Glass, which is now used on more than 1 billion handheld devices—that have emerged from its vast Sullivan Park business innovation facility, a 2-million-square-foot complex in Corning, N.Y., about 230 miles northwest of New York City. The company boasts $8 billion in annual sales, a figure that would be nearly doubled if its share of joint ventures such as Dow Corning, Samsung Corning Precision Materials, and others were included.
Yet starting in the fall of 2012, Chairman and Chief Executive Officer Wendell P. Weeks started telling the Corning innovation team, led by Chief Technology Officer (CTO) David L. Morse, that the company's established RD&E practices were neither good enough nor fast enough. Recognizing intensifying global competition and Wall Street's never-ending demands for higher profits, Weeks began calling for "agile" innovation—an approach that would enable Corning to respond immediately to the needs of customers, as it famously did in 2007 when Steve Jobs asked the company for a better cover glass for the wave of Apple iPhones about to be launched. The company is currently dispatching its Ph.D. researchers to proactively develop more big opportunities. They are meeting with customers such as Samsung Electronics and Sony to understand and even anticipate their emerging needs in technology areas such as organic light-emitting diodes (OLEDs) and 3D television.
Morse, a Ph.D. researcher himself who, alone or jointly, holds 22 patents, has been Corning's CTO since May 2012. Before that, he was the senior vice president of corporate research. Now he is charged with shepherding this innovative company's R&D practice through an era of change. In March 2013, at his Sullivan Park office, Morse spoke with s+b contributing editor William J. Holstein about the changing nature of innovation.
S+B: Corning has set a goal of creating more intellectual property and commercializing it faster. What does that mean for the businesses you're in?
MORSE: Some people in the materials industry today are asking whether long-term, continuous research and development can yield intellectual property. It does. And it always has. You just have to have continuously consistent investment. In a field like this, it's nearly impossible to say, "I have an idea for a new glass; I'm going to make it in my garage and scale it from there." Our type of R&D requires the structure of a real laboratory. That's true whether it's glass, lasers, or semiconductors.
In the past, we used a standard five-stage innovation model—research, applied research, development, scale-up, and production, all in sequence. The good part of that is it helps you ask every question you could ask, and when you emerge with a product, it's relatively fail-safe. It's ready to go. But it's a slow process. You don't have the luxury of early-research-stage feedback.
To move faster, you have to be agile. That means taking a little more risk—for example, showing customers prototypes early on, to get their feedback, while recognizing that there could be significant further development required. If the customer says, "I'd like to have something to put on the front of my phone so that it doesn't scratch," you can do one of two things. You can say, "OK, I'll be back in three months with a sample." Or you can say, "Yes, we can do that. Here's one we made in the lab this week."
S+B: Part of the answer seems to be connecting your best scientists directly to customers as they confront their challenges. That must be a very complex thing to manage.
MORSE: Yes and no. Trust has to be built at the very beginning of the process, and that's why we need to start with relationships at the highest levels, up to and including the CEO. There also has to be an understanding that we are there for mutual success.
Historically, businesses such as Corning tended to be very conservative about these types of relationships because it felt like we were giving away our technology. And conversely, customers have said, "I'm not willing to tell you what I need because you can use that information to sell to my competitors as well."
S+B: How do you balance agility and speed with the discipline and rigor that research demands?
MORSE: That's a good question. I wouldn't say we're stopping our existing innovation process, but we're distinguishing those cases where it is important to move quickly, and we're taking more risks with them.
For example, with Gorilla Glass, we promised we would deliver a product in what was basically an emergency situation. Steve Jobs and Apple had announced a date for the iPhone launch. To make a running change to a new material with a new supplier was big. Jobs requested the deal in a one-on-one meeting with our CEO, Wendell Weeks.
Another example is our glass substrates for liquid crystal displays—our biggest business today. Working with the RCA Sarnoff labs, we established the ability to create liquid crystal displays, starting back in the 1980s, for watches. Then came desktop displays, which were relatively static pictures. In the 1990s, people said the technology would never work for television because the image refresh function was too slow and the colors weren't defined enough. But by a decade later, in the mid-2000s, LCD TV had grown to be a huge business. It completely displaced conventional TV display technology, the cathode ray tube.
To keep up with these developments, we have to invest in long-term RD&E. We're not alone in this. If you look at the companies in the United States that are strong—the Intels and the Qualcomms—they all invest heavily in RD&E. This involves some risk. There isn't any short-term financial market that encourages Corning to make the investment that it does. It takes sheer force of will and a belief by our board of directors and our management group that we are first and foremost a technology company. One hundred percent of what we make is a result of research we've done. Wendell frequently tells management groups that we've been here for 160 years and we're going to be here for another 160 years. It sounds like a throwaway line, but he is not kidding. It takes decades of steadfast commitment to create life-changing inventions.
S+B: Have international competitive pressures been a factor?
MORSE: I think so. When we started the first cathode ray tube joint venture with Samsung, Corning had less than $1 billion a year in sales. Samsung was smaller than we were. Think about it. When Samsung, LG, and other Asian companies can turn themselves quickly into companies on the order of $100 billion a year in revenues, it's important for us to be able to innovate along with them. They all have the time, money, and people to buy the best technologies. Someone has to invent those technologies and develop their applications. If we don't do it, somebody else will. We have to be agile to keep up. A lot of U.S. companies are even more intense in the demands they make.
S+B: Do you see any technology-based competition emerging from China?
MORSE: I haven't seen it yet in glass. I can't point to an industrial lab in China—at the Corning level—that was not established by a U.S. company. China is extremely skilled at manufacturing, but I haven't seen this other part emerge yet.
Today, I see China as more of an opportunity. How do you adapt the Corning product to the Chinese market? Corning is the largest supplier of optical fiber in the world, and China is the largest user of that. China is a huge manufacturer of cars, and they need our cellular substrates for catalytic converters. And of course, China is a huge consumer of displays—and that's our largest business.
S+B: Innovation has been slow in some large companies because scientists have to run a gauntlet of review by marketing, manufacturing, and sales. How do you manage that problem?
MORSE: Putting our scientists in the customers' operations is one way. But it's also critical for senior leadership to understand what the people in the lab are doing. Launching a product shouldn't be like having a gauntlet to run, but rather having a series of people holding water for the person running the marathon, getting behind them, coaching them, and participating with them. Personally, I've always believed that the function of technology management is to enable those people. We work for them. We should make sure that the smartest minds we have can succeed. This includes knowing what they are doing, giving them resources, and exposing them to the needs of relevant industries.
S+B: But the rap against scientists in the lab is that they want to pursue the frontiers of knowledge, not respond to the mere commercial needs of the marketplace.
MORSE: Actually, part of the culture of this lab is the way we combine basic science and successful product introductions. That's one reason people work here into their 70s and 80s. Even after they've retired, they come in every day. We are all encouraged to do science. We have a program called Safe Haven, for instance, in which people write research proposals and send them to senior scientists in our lab. We pick some, just like the National Science Foundation does, for funding. "Sure, take a year. Go research that." There are ways to allow individual researchers to respond to an itch that they have and still feel that we are being responsible in spending the company's money.
Our researchers have experience as successful scientists, but they've also had the thrill of seeing some of their technology reach the marketplace. They teach that sensibility to others. It becomes part of the culture. It's fun to succeed financially when you do it through invention and technology. Take Dr. George Beall, a scientist who has received every award ever given in ceramics or materials. I interviewed with him when I came to Corning. He's world-class academically. When we bring in people just out of school, he can convey not only the science, but the excitement of seeing your inventions reach the marketplace. His walls are not only lined with certificates and awards; they're also lined with products. That is the tenor of this lab.
S+B: How do you break down the silos between different scientific disciplines?
MORSE: In the 1990s, when we were in an acquisition mode, we acquired labs all around the world. We had great people working in them, all very smart. But the integration of these remote labs proved to be extremely difficult. Then came the telecom downturn, and we couldn't afford these labs dispersed any longer. I strongly argued that we should bring them together in one place.
Now we have one major facility, with research, development, process engineering, and all the technical competencies here—inorganic and organic sciences, modeling simulation, characterization, optical physics, everything. We organize projects across those competencies so projects can have the right leadership.
For example, if we work on glass for the iPhone, we pick glass composition people, special characterization people to analyze the strength and reliability of the glass, and development people who can scale up that glass and test it in the prototype stage. We're going to have engineers who can take what we give them and go to our major glass plant in Harrodsburg, Ky., where we move the product into volume production and commercial sales. Each of those has been drawn together, eliminating the silos. For another project, we might call on the optical wave guys and get them to work with optical physicists, or we'll ask the materials groups to actually make a product, or we'll call on the polymer group because maybe we'll use some high-tech polymers that will allow glass to last longer.
S+B: In August 2012, the board named an innovation officer, Martin J. Curran, who reports to both you and your CEO, Wendell Weeks. Why did you bring him into that role?
MORSE: Business sense. We were allowed to take a thoroughly battle-tested, successful general manager from one of our most important and technical business units [Corning Optical Fiber] and put him in this job. Successful general managers are not that easy to come by. To find one who was willing to step away from running a $2 billion business and get involved in a group of new business development projects in various stages of development was great.
Together, he and I run the Corporate Technology Council, which evaluates early-stage ideas and decides which ones to fund, and the Growth Execution Council, where senior management meets to allocate resources to the corporate growth platforms. Marty has an entrepreneurial capability, a general management ability to assess detail and cost in the execution plans, and a sense of urgency; he pushes us to reach our goals sooner. We work together every day.
S+B: How does Corning's practice of creating cross-disciplinary reviews and multilevel management meetings facilitate decision making?
MORSE: These councils reflect the breadth of a project by bringing in scientists, marketers, and business leaders, and having them explore the depth of the project. We spend four or five hours a month in the sessions, bringing all the stakeholders together and driving to a decision. You hear the technical facts about what's working and what's not working. Management will sometimes decide on the spot whether to continue a project and what we should spend. This eliminates older, more formal, more stratified practices. We put it all together at the same time so that no one has to leave the room saying to their direct reports, "They said A, but what I really want you to do is B." We agree on the plan in that room.
S+B: How do all these more agile practices come together in, say, figuring out the next wave of televisions?
MORSE: Being so close to customers that you understand how they put a layer of transistors on the back of the glass is about the only way to solve their problems. The glass is being heated to 400, 500, 600 degrees or more for a period of time. Heat-up rates and cool-down rates become critical. So do atmospheres, oxides, silicon materials, and vapors. True customer insight means knowing enough about all those processes so that you can do the magic that we do with glass composition.
We introduced a new glass within the past couple of months called Lotus, which is an extension of our display glass technology. It is becoming the glass of choice for high-tech display applications.
S+B: What are some other exciting things we'll soon see from Corning?
MORSE: Take a big industry like automotive. Think of all the things that have been done to cars to reduce weight—moving from steel to aluminum to carbon fiber, making tires lighter, and doing everything you can to the engine. But you're still hauling around the same thick window glass made by the same soda lime float process that was used in 1950. Lighter, stronger glass makes a great deal of sense and will take a great deal of weight out of the car. Consumers will see that in improved gas mileage, and we see it as an opportunity for our advanced glass technology.
Think also about architecture. If architects design buildings with electrochromic windows (sometimes called smart glass), which can change colors to regulate the amount of sunlight that enters a building, for example, they need a technical glass like ours. You can achieve a lot of energy and light control with that.
In consumer electronics, touch is becoming ubiquitous. If you're 15 years old, you live with your touchpad. You watch TV on it, not on your parents' television. One sees babies playing with iPads these days, and those babies will grow up expecting to touch things to get them to respond. Ubiquitous touch is going to be everywhere—refrigerators, computers, everything in school. Companies will need thin and strong glass for all these applications.

Author profile:
William J. Holstein is a contributing editor at s+b and author of The Next American Economy: Blueprint for a Real Recovery (Walker & Company, 2011) and Why GM Matters: Inside the Race to Transform an American Icon (Walker & Company, 2009).
Recommended stories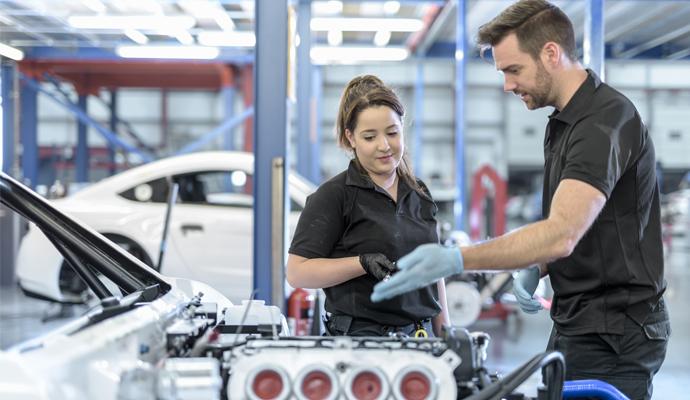 When the paint shop leadership team for carmaker Audi initiated a change process, they decided to trust the power of questions.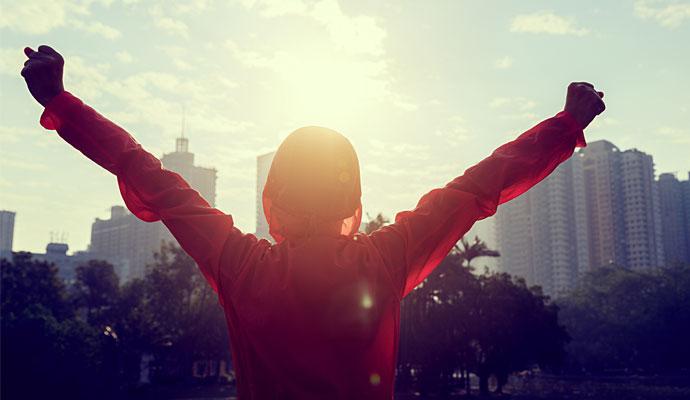 By empowering people to achieve their own goals, leaders can overcome great skepticism—and achieve great results. What worked for cookstoves in Guatemala can work for corporate cloud adoption.