Best Business Books 2005: Marketing
Storytelling, Stealth, and the Holy Grail of Advertising
(originally published by Booz & Company)
Brands fail for many reasons — bad products, bad research, bad pricing, bad distribution, bad advertising, bad strategy…and bad luck. But increasingly, brands also fail when they don't adjust to market changes and quickly become less relevant.
The concept of a brand was born in a simpler and slower era of mass marketing when the brand promise was clear-cut. Today's consumers face a sprawl of product options in the supermarket and elsewhere, from tartar control, whitening, and breath-enhancement in the toothpaste aisle to pulp, no pulp, low acid, and vitamin enriched in the orange juice section. Marketing messages are delivered in ubiquitous, fragmented, and even interactive media. "We used to be one nation, undivided, under three networks, three car companies and two brands of toothpaste for all," Stacy Schiff wrote in the New York Times. "Today we are the mass niche nation."
It's no surprise that consumers and marketers are a bit baffled by each other, nor that several new marketing books are attempting to unravel the mysteries of today's customer. All Marketers Are Liars: The Power of Telling Authentic Stories in a Low-Trust World, by Seth Godin (Portfolio, 2005), and Brand Hijack: Marketing without Marketing, by Alex Wipperfürth (Portfolio, 2005), want to tell us how to sell brands to consumers who don't trust them. A third, recent but not new, book, How Customers Think: Essential Insights into the Mind of the Market, by Gerald Zaltman (Harvard Business School Press, 2003), looks into the "mind of the market," which the author describes as the "dynamic interplay between the consumers' and marketers' thoughts that determines the outcome of every buying decision." Although each of these authors takes on one piece of the marketing puzzle, a fourth book — ProfitBrand: How to Increase the Profitability, Accountability & Sustainability of Brands, by Nick Wreden (Kogan Page, 2005) — takes the broadest, freshest, and most ambitious look at brands and branding, and it is my choice for this year's best marketing book.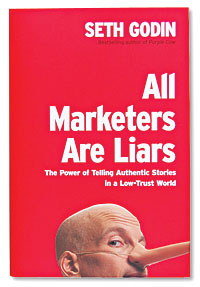 Truth and Trust
You can't not pay attention to Seth Godin's All Marketers Are Liars. A master marketer and multimedia promoter of his own work, Mr. Godin knows how to grab an audience. The cover of this book, which features a photo of the author wearing a Pinocchio-nose mask, makes him come across like a mischievous child. But he does a good job of developing, in a breezy writing style, the serious point made in the subtitle: The Power of Telling Authentic Stories in a Low-Trust World.
His premise is that successful marketers don't talk directly about features or even benefits of products and services. They tell compelling stories that are then shared and retold among consumers. "I believe," writes Mr. Godin, "that people tell themselves stories and work hard to make them true." But he also says, "I call a story that a consumer believes a lie. I think that once people find a remarkable lie that will benefit them if it spreads, they selfishly tell the lie to others, embellishing it along the way."
Georg Riedel, a maker of expensive wine glasses, is one example. Mr. Riedel believes there is a perfect (and different) shape of glass for every different type of wine. He has turned skeptical wine experts and writers into believers, and then — and this is the key — word-of-mouth marketers. Mr. Godin draws the reader into his thesis by noting tests showing that wine experts agree the same wine sipped from both an ordinary kitchen glass and the proper Riedel glass tastes better when it is in a Riedel. Then he drops the bomb: When the test is done scientifically, there is no difference in taste. Since taste is subjective, he concludes that marketing in the form of an expensive glass and the story that goes with it has more impact on the taste of wine than anything else. "Marketing, apparently, makes wine taste better," he writes wryly.
Does the clever Mr. Godin ever go wrong in advising marketers how to tell their stories? Not too often. But I would question his suggestion that they must tell a different story than a competitor. In most categories, the one benefit that is more meaningful than any other is what influences people ultimately to buy the product, and this benefit must be salient in the advertising. Procter & Gamble Company (P&G) is a master at positioning its brands on this high ground. It introduced White Cloud, a toilet tissue, as "the softest tissue in the world" at the same time its own Charmin had the leading position built on the promise that it is "squeezably soft." And Mr. Godin proposes his own salient (if ironic) benefit for All Marketers Are Liars: "It's a book about telling (and living) the truth."
Targeting Cultures
Brand Hijack brings us into the world of stealth, guerilla, and cult marketing. Readers should be prepared for a good dose of jargon and breathless overstatement. Still, there are good examples and tips on dealing with bloggers and other new media types, and creating brands that have traction in submarkets and subcultures.
Mr. Wipperfürth makes the case that marketers aren't in charge anymore. Consumers are. Although his observation is not new, his counsel to today's marketers is more interesting: "Facilitate your most influential and passionate consumers in translating your brand's message to a broader audience." Or, putting it more colorfully, "Let the market hijack your brand."
The major section on Red Bull, the trendy energy drink, is a case history of a brand that "offers up a vision that people can identify with, one that they want to involve themselves in more deeply." While routine brand management is concerned with volume and profit, hijacked brand management sacrifices volume and profit to get the right people deep into the experience. And whereas traditional brand management is inclusive (aiming for as many users as possible), the goal of brand hijacking is to make the brand feel more exclusive and therefore more alluring.
The Red Bull brand creates an "air of exclusivity" for its youthful consumers by targeting bars, raves, and movie sets; limiting access to its branded merchandise (such as T-shirts and hats); and deliberately limiting distribution of the product when it first enters a market.
P&G's distribution of the teeth-whitening product Crest Whitestrips on the Web before it was available in retail stores is another example of hijacked brand management. This strategy allowed word-of-mouth to develop, which created a buzz. By the time of the product's official launch, the brand had 35 percent consumer awareness. P&G also pre-seeded the product concept by recruiting dentists to sell the whitening kits in their office, in addition to buying targeted advertising in health and beauty magazines and running a public relations campaign. The company also targeted specific subcultures. Through its Web site, P&G discovered that gay men, brides, teenage girls, and young Hispanics were Whitestrips' most ardent consumers. So it went after them at bridal shows and in gay neighborhoods with film festivals and pride parades. Very un–P&G; very effective.
Mr. Wipperfürth calls another emerging marketing concept the "Undercover Tribe," which he defines as "loose social groups bound together by common hobbies and value systems." Apple's iPod is his example of this brand tribe phenomenon, with the highly visible white earbuds making each user a recognizable member of the iPod club.
How does a marketer go about cult marketing? Mr. Wipperfürth would start with in-depth cultural analysis to uncover social insights. To get to the mass market, he suggests first seeding your idea with the target audience of early adopters. Once they've been seduced, you switch back to conventional marketing methods. Buzz gets the idea behind the brand into the culture, he says.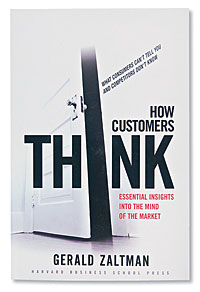 Deep Thoughts
Gerald Zaltman's How Customers Think promises to help readers avoid failure through a better understanding of how to gather more accurate consumer information and analyze it effectively. Like the other authors in this essay, he believes that today's customers are more skeptical about business (especially marketing) and less loyal to brands. But Professor Zaltman's main angle is to show that familiar market research methods are ineffective, and to suggest better ones.
Professor Zaltman is a Harvard Business School academic, and his book's dedication — to his doctoral students — is a tip-off to his writing style. Breezy it is not. But many of the points he makes are worth studying by marketers as well as academics. He notes that "despite the time and money spent on focus groups, surveys, questionnaires and even taste tests, 60 to 80 percent of all new products and services fail within six months." We have to dig deeper into the unconscious mind, says the author. He goes on to expose the difference between "espoused theory" (what people say they believe) and "theory-in-use" (the belief that underlies what people actually do). This is the reason "consumers say one thing to marketers and then do something completely different in the market." In other words, the idea that "consumers can readily explain their thinking and behavior" is a fallacy.
Professor Zaltman pins the blame for the perpetuation of marketing fallacies on the "80 percent of market research that serves mainly to reinforce existing conclusions, not to test or develop new possibilities." His point that marketers continue to misuse surveys and focus groups is right on the money. We have long known that data and understanding are not the same, and that a deeper understanding of consumers enables marketers to find insights that can be used in advertising.
The author lobbies for marketers to engage in "skillful listening," especially in terms of meeting latent consumer needs. For example, he says marketers tend to think of consumers' brains as cameras — "mechanical devices that take 'pictures' in the form of memories." Marketers also assume those pictures accurately capture what the person saw. But people's memories are far more creative and malleable, he says. Memories can change — and be changed — without a person being aware.
And his argument that people don't generally think in words, and that words don't provide the whole picture of what people are thinking, is well taken. Sometimes, however, the author is off-base. For instance, he accuses market researchers of asking consumers what they like (or dislike) about an ad, and what they remember about it. Wrong, wrong, wrong. Marketers have long been taught never to ask about the advertisement. Always ask about the product. Only the most discredited research begins by asking consumers to be advertising experts.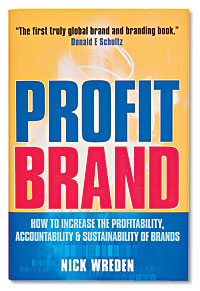 The Holy Grail
Nick Wreden's ProfitBrand tackles the oldest and most intractable marketing question: accountability. How do we know it is working? He calls for "quantifiable benchmarks" of return on investment and profitability. "Without profitability, ultimately there is no brand, no matter how great the buzz or creative image."
Mr. Wreden takes ambitious steps in explaining the significance of "sustainability" in customer relationships and the value of measuring marketing spending to establish accountability and profitability. "Sustainability is critical, since by some estimates 80–95 per cent of products fail to become brands," he writes. "Sustainability is also important because more than two-thirds of purchases are one-off buys. Only a brand focused on sustainability will take the steps that lead to second, third or even a lifetime of purchases."
ProfitBrand amplifies this concept, known in direct-marketing circles as the "true value of a brand": "A brand is not built by acquiring customers; it is built by keeping them," he writes. "Most competitive product advantages can be duplicated. The one advantage that cannot be duplicated is customer relationships." Branding strategies that aim to make a company No. 1 in the market, for example, are doomed to failure, Mr. Wreden argues. That's because brand sustainability can be achieved only on the basis of relationships formed on customer terms, not company terms.
One example of a company doing business on customer terms is Intuit, which has remained the leader in tax preparation software despite efforts by larger companies to dethrone it. The author recounts how Intuit reacted to a bug in its flagship tax program, TurboTax, that affected less than 1 percent of customers. It offered a new copy to any customer who requested it. No proof of purchase was required, however, and Intuit offered to pay any extra taxes and penalties that resulted from the bug. Contrast Intuit's response with the way Intel acted when flaws in its new Pentium chip were exposed in 1994 (which also affected only a tiny percentage of users). Intel first tried to ignore the problem, and then downplayed it. The company agreed to replace the defective chips only after months of criticism and ridicule that damaged both its reputation and its stock price.
On measurement, the book takes the reader through charts on how to view profitability by customer, and how to think of marketing investments to attract and retain profitable customers. It provides step-by-step guidelines on collecting data, consolidating data, and tracking customer retention. It even suggests compensation strategies that reflect the importance of retention. This is a book that runs the numbers but also recognizes the difficulty of data capture, and offers tactics to overcome obstacles.
Whether all this works remains to be seen, but Mr. Wreden's book is a landmark attempt to answer the right question at the right time. ProfitBrand is also well written and well organized, with useful "take-aways" at the end of each chapter.
Like the other three books reviewed here, ProfitBrand recognizes changes in the marketing game. But Mr. Wreden's view of change is more macro than the others. The author traces several distinct periods in the evolution of consumerism from the "mass economy" (the 1920s to the mid-1990s) to the "customer economy" (the mid-1990s to the present) to the emerging "demand economy," as he terms it.
"The demand economy will give customers the tools and choices needed to demand immediate, personalized fulfillment," he writes, "every minute of every hour of every day." One of his examples is the ongoing development of scanning technology that will allow instant ordering from ads, coupons, and even street posters in the future. The good news for marketers is that new data flows and new technology make measuring returns on marketing investment more achievable than ever.
Although availability and accessibility were the market door openers in the customer economy, the bar for value creation gets higher in the demand economy because of the customer's need for immediacy: Success in the demand economy requires integrated supply chains delivering tailored solutions to customers whenever and wherever they want, increased accessibility through multiple media channels, and build-to-order personalization.
All four books observe and examine emerging truths that may well endure in our new marketing world. But the ultimate truth is that it always pays to learn from the marketplace. Anyone who has been in business any length of time knows that you learn the most from your failures, not your successes. As Harold Geneen, who built ITT in another era, noted philosophically: "It's an immutable law of business that words are words, promises are promises, but only performance is reality."

---
Kenneth Roman
(
ken.roman@verizon.net
) is a former chairman and CEO of Ogilvy & Mather Worldwide, and has served on a number of boards of directors. He is coauthor of
How to Advertise
(St. Martin's Press, 2003) and
Writing That Works
(HarperCollins/Quill, 2002).
Recommended stories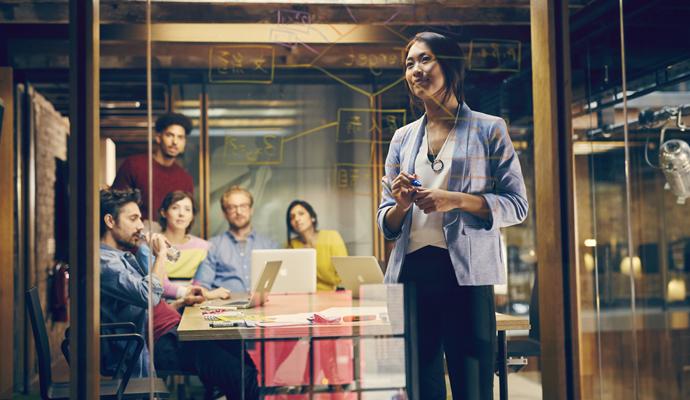 Five foundational building blocks can help innovators maximize value creation inside their organization.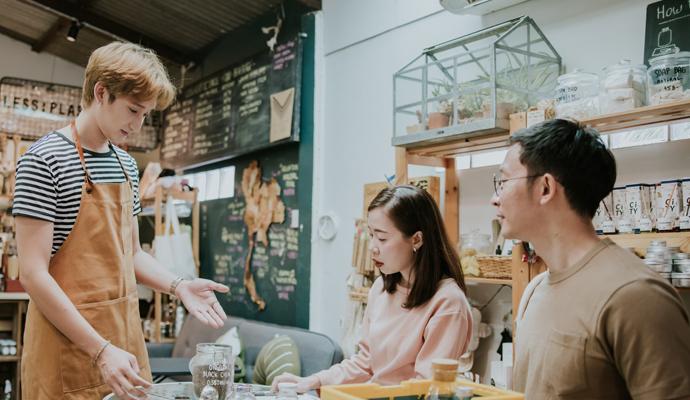 You can't transform your customer experience unless you align the organizational culture—especially the day-to-day behaviors of employees—to reach a clear outcome.