How to Slim Down a Brand Portfolio
The objective is not merely to divest brands, but to achieve higher rates of growth for the brands that remain.
(originally published by Booz & Company)
A wave of supersizing in the brand portfolios of consumer packaged-goods (CPG) companies is coming to an end. Decades of unfocused growth, with acquisitions that doubled or tripled portfolios overnight, had left CPG companies, including such notables as H.J. Heinz, Sara Lee, and Kraft, suffering the economic health hazards of portfolio obesity. These include swollen costs, poor circulation of information, inflexibility, slow decision making, and stressful relations with shareholders impatient for returns.
To their credit, CPG companies have awakened to the risks of an overextended brand portfolio and begun to cut the fat with a vengeance. Unfortunately, brand-portfolio liposuction can be high-risk surgery. CPG companies must walk a fine line. They must rid themselves of second- and third-tier brands that consume resources while receiving little space on store shelves, without losing the strong portfolios and geographic breadth that allow them to be influential, valued partners of major retailers.
To understand how this complex undertaking can go wrong, consider the example of Unilever. A bold acquisition strategy had turned it into one of the largest and most powerful consumer product companies in the world, but the growth came with the extra expenses and managerial headaches of proliferating brand complexity. Therefore, in 2000, Unilever announced a five-year "Path to Growth" that called for trimming 1,200 brands from its portfolio — including such once-popular brands as Elizabeth Arden perfumes and Golden Griddle syrup — and closing numerous manufacturing plants.
Over the next three years, Unilever divested more than 100 businesses. Today, Unilever has 12 brands, up from four brands in 1999, that generate sales over €1 billion (about $1.27 billion). These include Knorr, Dove, Hellman's, Lipton, and Bird's Eye. Procurement standardization and improved product mix supported operating margins of close to 15 percent, compared with 11.2 percent in 1999.
In 2003, however, the plan faltered. As competition intensified, the top-line growth rate slowed from 5.4 percent to below 4 percent. New product fads, such as that for low-carbohydrate foods, seemed to pass Unilever by.
What had happened? Unilever had pruned its brands without identifying its competitive advantages or the regional differences in consumers' tastes. Net result: The company ended up needing much higher sales from the remaining brands in its portfolio than they could deliver.
Other CPG companies slimming down their own brand portfolios can follow three basic precepts to avoid similar mistakes.
Exploit Advantaged Capabilities. The first step is for companies to answer the question, What do we do better than anyone else? and then build the brand portfolio around those distinctive strengths. For example, Frito-Lay has invested in a unique direct store delivery system, built on advanced database technology, that ensures a just-in-time presence across the retail spectrum for its wide range of potato, corn, and tortilla chip products. Wrigley brand gums and candies dominate the real estate closest to the cash register in retail locations, particularly in the hard-to-reach, fragmented convenience channel, thanks to a sales operation and product-delivery system more sophisticated than that of any of its competitors. And Kraft has identified scale as its differentiating factor; each of the consumer giant's mainstream brands, such as Lunchables, Jell-O, and Oscar Mayer, must be large and in a core category, providing more than 5 percent of total revenues. As a result, Kraft has sold off its confectionery, fruit snacks, and yogurt businesses in the United States, along with its desserts line in the United Kingdom.
Pursue Strategic Coherence. The second question that CPG companies need to answer is, In which brands, categories, or segments can we potentially lead the field? This lets management focus on a set of categories in which the company has clear advantages, such as strong trademarks, a well-positioned portfolio, or greater opportunities to capitalize on expanding its brand into other similar categories — the way, for instance, that a cigarette company might enhance its product mix by developing a smokeless tobacco.
Unfortunately, many companies have gotten into the habit of investing in nonstrategic brands. These often include low-performing brands within high-performing product segments. Recognizing this weakness, leading CPG companies have begun to put more emphasis on strategic coherence. For example, Cadbury-Schweppes has recently moved aggressively to strengthen its confectionery business and to exit the poorly performing European beverages business.
Enhance Economic Currency. The final question for companies to ask is, Are there sufficient growth opportunities in the brands that we're keeping to make up for the loss in revenue from the brands that we're shedding, and are we in the best position in the category to capture these opportunities?
No matter how bad brands are, no matter how nonstrategic, they do generate earnings. Companies that slim down their brand portfolios must rely on cost reductions or increased sales in their remaining brands to replace the earnings from those that they've sold. Of course, if a company can realize a significant sale price for its divested brands, its current brands will have less distance to cover in giving the operation a neutral, or preferably positive, net present value; alternatively, a weak sale price necessitates more sales or tighter cost cutting for the rest of the portfolio.
The objective of brand-portfolio restructuring is not merely to divest brands, but to remove some brands to achieve higher rates of growth for the brands that remain. View the portfolio-management process as an ongoing economic fitness program. Establish brand portfolio metrics, and use them for a regular portfolio checkup. One round of portfolio contraction is not enough: Cutting portfolio fat and building brand muscle will take ongoing and disciplined effort.

---
Nikhil Bahadur
(
bahadur_nikhil@bah.com
) is a principal with Booz Allen Hamilton in Cleveland. He advises large consumer-focused organizations on growth and brand strategies, their organizational design, and the development of marketing capabilities.
---
Edward Landry
(
landry_edward@bah.com
) is a vice president with Booz Allen Hamilton in New York. He focuses on strategy and sales and marketing effectiveness for consumer packaged-goods and health-care companies.
---
Steven Treppo
(
treppo_steven@bah.com
) is a principal with Booz Allen Hamilton in Cleveland. His work is primarily conducted in the area of growth strategy development with consumer packaged-goods companies, with a focus on analytical marketing.
Recommended stories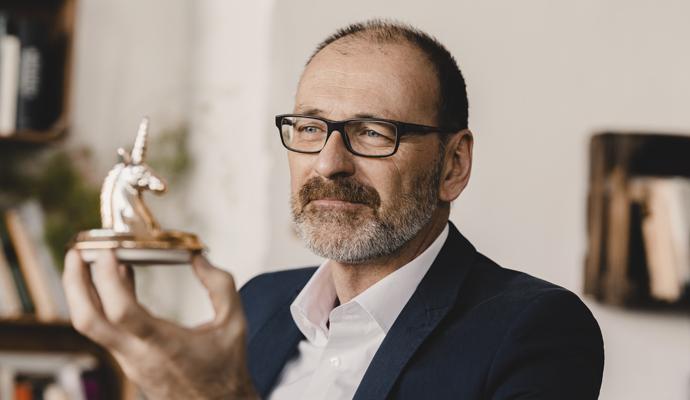 A new book makes the case for adopting the enduring principles of this '80s-era process-management system in digital-first businesses.