Building a Megaproject Without the Mega Problems
Large initiatives such as oil pipelines have a higher chance of succeeding when stakeholders work together to manage the risks.
(originally published by Booz & Company)
Bottom Line: Globalization and widespread cooperation between international firms have ushered in an era of sprawling initiatives known as megaprojects—expensive, complex, and highly scrutinized ventures that rarely succeed, but that pay off big when they do work. A new study lays out the most common pitfalls and prescribes ways for companies and investors to minimize risk.
In 2009, five countries began collaborating to build an ambitious gas pipeline. As envisioned, the infrastructure would run all the way from the eastern border of Turkey to Austria, traversing nearly 4,000 kilometers (2,485 miles) through several Balkan nations. This massive international endeavor, called the Nabucco pipeline, should have been pumping gas by 2017. But a shortage of funding, political instability in the region, and a lack of technological know-how have since cast doubt over whether the multibillion-dollar initiative will ever be realized.
According to a new study, problems like these commonly afflict so-called megaprojects. Extremely large initiatives occupy an increasingly vital role in the global economy, and developed nations and emerging markets are expected to spend an estimated US$53 trillion on them over the next three decades. But they're tricky to pull off. They typically require long-term coordination between contractors, investors, public and private agencies, and multinational sponsors—which is made particularly difficult by how quickly technology changes and political influence shifts.
Triumphant examples include the Chunnel that links England to France, which overcame design, engineering, geologic, and other technological challenges at a rate of £3 million (about $5.3 million) per day during construction. On the other end of the spectrum, however, lies Boston's Big Dig. Plagued by overruns and delays, the tunnel saw its costs balloon from an initially estimated $2.56 billion to $14.8 billion by 2007. Such excessive overruns are not uncommon. Indeed, the World Bank reports that 46 recently canceled megaprojects wiped out at least $21 billion in investment, not considering the sunk costs to the businesses, communities, and citizens that had already begun work.
What, then, is the blueprint for a successful megaproject, and which ones should investors and companies get involved in? The authors of this study analyzed the four main types: infrastructure (such as the construction of dams, ports, and railroads); extraction (of gas, minerals, or oil); production (encompassing military hardware, manufacturing plants, etc.); and consumption (including amusement parks, malls, and other tourist destinations).
Given the high stakes involved, risk management is paramount. The authors suggest a five-point scheme to first define and quantify potential sources of uncertainty, before developing and implementing risk management strategies that are continuously monitored and updated. Even more important, the authors found, is for all stakeholders to know their partners. A healthy spirit of cooperation is a prerequisite for successful megaprojects, they write, and although the hard data such as market share, technical ability, and financial resources should always be considered, it's equally vital to examine the "softer" elements of potential collaborators, such as their culture and communication style. Because conflicts of interest often arise during megaprojects' long time frame, contractual agreements should clearly set out the goals and obligations for all participating companies, governments, and sponsors.
One way to ensure a shared vision is to adopt a sink-or-swim-together approach , in which profit sharing and risk sharing are spread evenly among partners. The study points to London Heathrow Terminal 5 as such a project; it was completed on time in 2008 and within the estimated budget of £4.2 billion (about $8 billion). "All partners and contractors were paid for their work, a risk budget was maintained, problems were dealt [with] quickly and in the most cost efficient manner, and remaining profits were shared," the authors note. Likewise, when manufacturing a new line of 777 jets, Boeing partnered with United Airlines to reduce its own risks and ensure that a large number of new planes would definitely be purchased.
One way to ensure a shared vision is to adopt a sink-or-swim-together approach.
And it's the first days that count most. Companies drive down costs and achieve better outcomes when they invest efficiently during the initial phases of a megaproject, the authors found. This conclusion reinforces a World Bank study that found that large projects with better front-end designs had an 80 percent success rate, whereas only 35 percent of those with early complications were completed.
But, as the authors note, once you commit to a megaproject, it's hard to pull out. There's a dangerous point of no return when partnering firms, sponsors, and governments have invested too much money, time, and reputation to just walk away from such a publicly visible project. "Therefore, risk is not only associated with the loss of the invested money but also with the overall development of business or investment for the future," they write.
Interestingly, when projects went south, managers' tendency to overlook the complexity of huge projects resulted less from their lack of experience or management than from what the authors dub the "illusion of control." Project leaders often made faulty decisions under the mistaken assumption that they could affect one of the many external factors—whether political backing or sourcing capital—that help determine whether a megaproject succeeds. These unrealistic or overconfident attitudes were often at the root of the cost overruns, technological failures, conflicting interests among partners, and project delays that ground the megaprojects to a halt.
To overcome the illusion of control, the authors advise companies to be as transparent as possible, and never fail to use reference class forecasting, a methodology that allows companies to compare potential projects to similar ones from the past. Applying these lessons should help firms reverse the "megaproject paradox'' —the temptation for companies to get sucked into large initiatives despite their history of coming in late, over budget, or with adverse environmental or public effects.
Source: Managing Global Megaprojects: Complexity and Risk Management, by Ilke Kardes (University of Applied Sciences), Ayse Ozturk (Georgia State University), S. Tamer Cavusgil (Georgia State University), and Erin Cavusgil (University of Michigan–Flint), International Business Review, Dec. 2013, vol. 22, no. 6
Recommended stories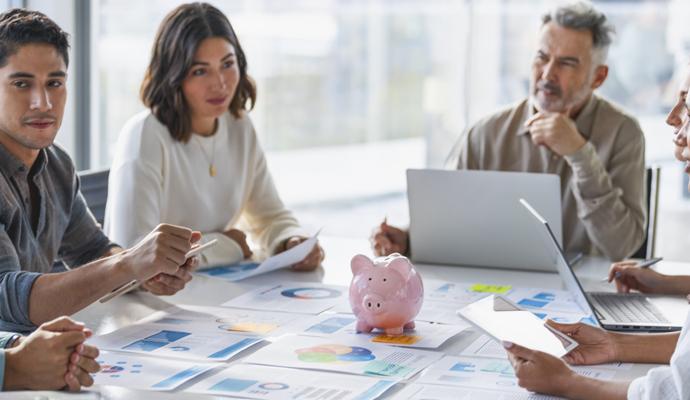 An early '90s comedy–drama, set in the heyday of corporate raiders, offers a nuanced view of stakeholder capitalism.