Encouraging the Next Generation
Take a moment, change a life.
(originally published by Booz & Company)
About a month ago, I was sitting on the patio of a local coffee shop with a wonderful 14-year-old young lady who we'll call Alyssa. Full of love and life, she easily connects with others, is compassionate with children, and is starting to demonstrate an artistic bent. But when we met, she was feeling a bit depressed. I asked her to consider her gifts and strengths, to help her refocus on the positive. But instead, she grew quiet and looked at me blank faced, seemingly dumbstruck and unable to see what is easily apparent to others.
My experience with Alyssa is not unique. Having spent a fair amount of time volunteering with middle-school students, I'm saddened that most really don't know what makes them special. And on the eve of International Women's Day, I'm reminded that it's up to those of us who have achieved success to mentor and encourage the young women who are following in our footsteps.
This blog post is in honor of two women who have dedicated their lives to helping children transform into young adults. In particular, they made a profound impact on the life of a 13-year-old girl named Sarah, who shares her story:
My name is Sarah and I'm in seventh grade. Almost all my life I knew that I liked to draw and sing, but I never thought about writing. That is, until fifth grade when my English teacher, Mrs. Greene, and the principal, Mrs. McKinney, saw something in me that I didn't see in myself.
In English class, I wrote a story about a pup-eating panther that raised an abandoned wolf. Although I worked hard, I didn't think much of my story. But my teacher did. She read it to my class and told me that the principal wanted me to read my story to her! After I did, the principal and I had a conversation that I will always remember. She asked me what I wanted to be. I replied that I hoped to be an artist, because drawing was a passion of mine and the only thing I really got compliments on. She recommended that I consider being a writer—an idea that hadn't even entered my 11-year-old brain!
I was sure that my success had just been a fluke, until I entered two writing contests the following year and was recognized in both. The first one had an assortment of winners, and from that I won a pair of sandals. But the second one, and this really blew my mind, only picked one person from each grade level to win throughout Orange County, Calif. I won $50! It was amazing! I was very pleased with myself.
Now I have my sights set on being an author and an illustrator. Writing is something I truly enjoy. I love how you get a special idea in your head, and then it flows out like the sweetest of honey, out on the page. Then you get more and more ideas, and it becomes a new building of metaphors, synonyms, similes, etc.—like an architectural design of literature. I know that not everyone will like my literary architecture. And, even though I shouldn't care what other people say about me, I do, and hope I will be successful. I realize I will have to work hard and save my money to go to college to make my dreams a reality. And, most likely, I'll need to have another job, just in case.
But I am excited about the choice I have made for my life and really glad that I get to choose, unlike many women before me. I am aware that, in the past, some women in the U.S. were unable to get the same education many kids grumble about today. Many did what they were told but a few dressed up like men so they could achieve their ambitions. They were cast off, before we began to contradict the belief of "male superiority."
I am nothing but grateful to those brave women who stood up for what was right and sacrificed themselves to make it possible for me to be where I am today, and I salute the brave women and girls around the world who are fighting for the same education and rights that we sometimes take for granted. It is amazing to think what a girl can do when she sets goals. When I die, I hope that I will be remembered. I want a legacy that says that I was actually worth something and not just a quiet girl who sat in the corner desk.
It is amazing to think what a girl can do when she sets goals.
Sarah's story is a sweet, poignant example of how small moments of intentional encouragement can have large, reverberating impact. The best encouragers look for growth, not perfection. They don't tell people what to do, but help them reflect on who they are and the implications of their actions. They don't express concern, but convey confidence. And finally, they lift others up—giving more encouragement than they get.
Consider your family, workplace, and community. How can you encourage others to recognize, develop, and use their gifts?
Recommended stories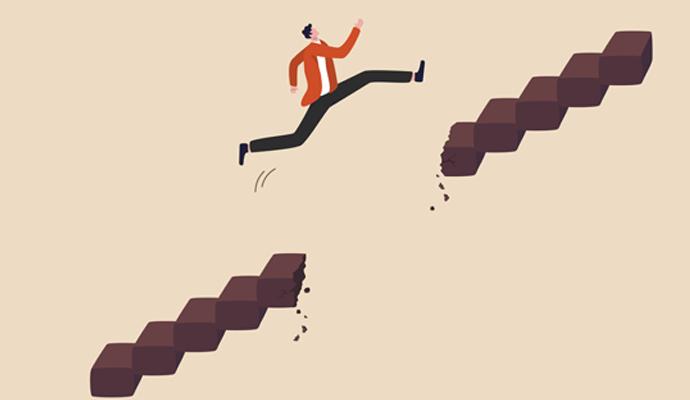 Episode 10 of the Take on Tomorrow podcast features Nadi Albino, from Generation Unlimited, and Chaitali Mukherjee, the people and organization lead partner with PwC India.