The Search for an Oracle
Where do you look for leadership wisdom?
I recently received a note from a reader who asked for my three top books or other sources for leadership insights. That should be an easy question to answer for someone who writes about leadership as much as I do. And three worthy selections did indeed come to mind: The Essential Bennis, Jim Collins's Good to Great, and Bill George's True North. But the more I thought about it, the more I realized that while everyone should read these books, they're no longer in my top three — reading them is like betting the ante at the poker table.
Nor would I recommend delving too deeply into #leadership on Twitter. Sifting through a hashtag stream is like prospecting for gold in 1849, and given how easy it is to proclaim oneself a "leadership expert," you'll find yourself working through a lot of silt before you come across a nugget of gold.
Instead, I will share some overlooked sources of oracular wisdom that I find regularly deliver information that is useful, well-researched, and generally well-edited. I find it helpful to hear from people who can pass serious editorial scrutiny and not just attract a lot of eyeballs.
Of course I first will recommend the pages and pixels at strategy+business, not because it is my hometown team but because the editors have nurtured some truly interesting voices such as David Rock, Susan Cramm, and Elizabeth Doty. The quantity is manageable while the quality remains high.
The regular On Leadership column at The Washington Post is also worth reading. Perhaps because of the publication's geographic location, the column moves beyond the usual business suspects and so also avoids the typical bromides that publicists craft for their executive clients. Jena McGregor and Tom Fox do some intriguing pieces with an understanding of how public policy plays into leadership, both in government and the private sector. (And where else could you read about what the head of the U.S. Maritime Administration learned from Attila the Hun?)
Because business leadership sits at the intersection of human psychology and organizational behavior, I find Psychology Today a good source for science-based insights set in readable prose. I found a recent article on overcoming biases against girls as leaders both fascinating and more broadly applicable in the adult world. NPR is also an excellent source for those more aurally inclined. And if you prefer watching television, you'll find the upcoming PBS series on the brain featuring Dr. David Eagleman fascinating. (You also can add Eagleman's book Incognito: The Secret Lives of the Brain to the list. It's insightful and highly readable.)
For those not afraid of a few citations, I recommend delving into academic journals such as The Leadership Quarterly. It won't hurt, I promise — a number of such journals, including LQ, are working hard to banish the passive voice and publish articles of interest to practitioners as well as researchers. It helps to have access through your local public or university library, as journals can be quite expensive. However, many are going open-source in order to make their articles available free of charge. Start at scholar.google.com and search to your heart's content.
There is one all-time favorite book I must add to the recommendations list: Leadership and the New Science, by Margaret J. Wheatley. The science is no longer so new (the first edition was published more than 20 years ago) and Wheatley herself no longer believes that simply applying scientific understanding can transform organizations, but I still think that this book is worth your attention. It is an excellent introduction to complexity theory and other modern scientific concepts, with particular attention given to organizational dynamics. For example, learning that attempts to impose control on a complex, adaptive system yields less order, not more, will forever change how you see leaders, hierarchies, and rules-based approaches to management. I draw upon Wheatley's insights daily.
It's also important to look beyond the mere designation of "leadership" literature. For example, you can find interesting and useful articles in the newsletter Brain Pickings. To her credit (and her readers' advantage), the editor, Maria Popova, has eclectic tastes — and because leadership is about understanding people as individuals and in groups, you can learn a lot from reading about literature, art, and politics. Indeed, some of the best writing relevant to leadership is never tagged as such. Your quest is to better understand why people do what they do in different circumstances — how do they think and make decisions — and hone your ability to recognize what will work for you as well as what won't. Be bold.
Leadership is about understanding people, and you can learn a lot from reading about literature, art, and politics.
Of course, you also should look beyond the formal published sources. A couple of years ago, I attended a conference that featured female entrepreneurs from emerging markets along with their innovative projects. I learned more about leadership in that day than in a month at the library. Get out into the world and meet people doing interesting things.
The point is this: As far as leadership understanding goes, think of the literature (and audio and video resources) as a sumptuous buffet line. Try different things. See what resonates. Put more vegetables on your plate than pastry. And if a particular morsel doesn't work for you, simply move on. Not to mix metaphors, but one can learn from the world of wine: Always be willing to try something new, don't be afraid to step away from the much-heralded if it doesn't taste good to you, and get comfortable with the idea that there is always more to discover.
Recommended stories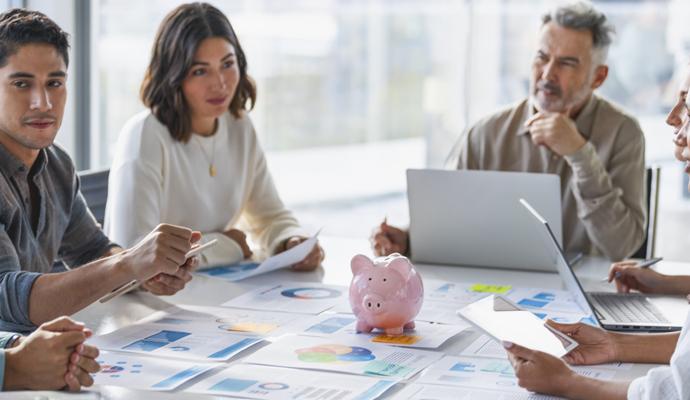 An early '90s comedy–drama, set in the heyday of corporate raiders, offers a nuanced view of stakeholder capitalism.