Thinking Like a Leader: Three Big Shifts
Adopt a leadership mind-set before you try to lead.
Leadership development often focuses on doing — the mastering and use of certain desirable skills and behaviors that concretely show someone to be leading. Competency-based models can provide lists of such skills, as well as attributes of their practice. But where leadership effectiveness really starts is with thinking — adopting a mental model that makes it possible to acquire those skills and demonstrate those behaviors in the first place. Mastering leadership thinking can be challenging, but it is absolutely essential. I may adopt the exact stance and handgrip of Jordan Spieth, but I'm unlikely to win the Masters — while there may be a (wide) gap in our athletic abilities, there is an even larger one in our mental capacity for the game of golf.
Leadership thinking can be learned but is difficult to teach. It is a matter of asking questions and presenting challenges that help someone discover the mental model that enables their "best leader" to emerge. It requires not just competency, but demonstrated proficiency. And proficiency only comes with practice, feedback, and analysis. Journaling and other reflective exercises are good for processing and absorbing both successes and failures. As Peter Drucker said, "Follow effective action with quiet reflection. From the quiet reflection will come even more effective action."
Leadership thinking requires not just competency, but demonstrated proficiency.
In my experience, there are three big mental shifts that aspiring leaders must make in order to develop thinking capacity and capability:
Shift 1: From linearity to complexity. Management systems and processes tend to be linear. They assume that similar inputs will result in similar outputs. In many situations, this holds true. Leadership, however, requires a more nuanced view of the world because it involves people: what motivates them, what their interests are, and how engaged they become. Mechanical systems may be linear but as soon as the human element becomes involved, the system becomes both complex and adaptive. It is dynamic — similar inputs may bring about wildly divergent outputs.
As a leader, you come to understand that relationships between the system components are paramount, rather than the components themselves. Discerning these dynamics is essential to achieving your desired outcome, which means you think about connectivity, and the extent and robustness of those connections. You accept that these relationships contain some performance factors you control and some you don't — you are part of the system, but likely not its gravitational center — and that effective influence can amplify your impact on those beyond your direct purview.
When things go well or when you hit a bump along your leadership road, ask yourself which direct and indirect relationships were at play. Where did your attention to positive connectivity pay dividends and where might you have done better?
Shift 2: From "focus" as a noun to "focus" as a verb. There is always temptation to set static goals — annual growth rate, net profit, or customer acquisition costs, for example — but once you accept that you are operating in a dynamic and adaptive environment, you begin to realize such goals have limitations. As a leader, you must continually recalibrate to ensure that you have established the right goals and that they not only include financial measures but also purpose (understanding the problem your customer has hired you to help solve) and values (the bedrock principles that guide your activities).
Clarity is a constant challenge, particularly in large organizations with multiple business units and geographic theaters of operations: Associates and executives come and go; competitors thrust and parry; customers evolve; technology disrupts. You must balance short- and long-term interests as well as the needs of diverse stakeholders. Each of these can create distortions and distractions. When you gain clarity on purpose, values, and performance, you foster agility throughout the organization. You enable order without having to control every action and decision. That's leadership.
As you contemplate the outcomes you achieve — for better or worse — ask yourself about clarity. Ask others and accept their honest feedback. Often, poor signal-to-noise ratio in internal feedback loops results in less clarity than you imagine. (See Michael Beer and Russell Eisenstat's classic HBR article, "How to Have an Honest Conversation About Your Business Strategy," for one proven approach to improving clarity.)
Shift 3: From they to you. For too long, individuals have looked to their organizations to tell them how to develop as leaders, and this competency model has dictated the training agenda. According to Jay Conger of the Marshall School of Business and Douglas Ready of MIT's Sloan School, competency models offer the advantages of "clarity, consistency, and connectivity [with other HR processes]." But Conger and Ready also point out that competency models have significant limitations because they tend to be complicated, often with 30 to 50 components; conceptual in that they usually are based on a leadership ideal; and are built on current realities rather than future needs.
Let me add to their analysis that the traditional model was designed to assess and mold people based on the needs of the enterprise — what the company wants. The models do not fully consider the individuality of each person being pushed through the Play-Doh mold and how that person might make a distinct leadership mark. They also tend not to include some of what we at the NPLI have found to be important leader characteristics, such as embracing complexity, exhibiting curiosity, and actively recruiting strong people to your team. These are tough to assess with standard pre- and post-training tools.
Ask yourself: What are you doing to improve your leadership capacity and capability? What are you doing to push your boundaries and test your limitations? How are you getting ready for where you ultimately want to be beyond the next rung of the ladder?
You are likely to work in many contexts and will not spend your entire career in a single firm (or find all of your leadership opportunities in your work life). In other words, you need to take responsibility for understanding your strengths and weaknesses and discerning where and how you can make your most meaningful leadership contributions. Most important, you must take ownership of your own leadership development. With the mindset of a true leader, you can take the best of what your company offers — and then seek out more.
Recommended stories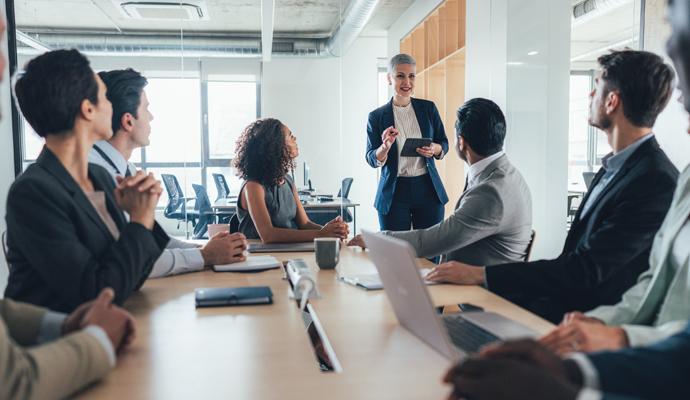 A former executive's 1960 novel, The Lincoln Lords, shines a light on the essential qualities of leadership.