Why Acting as One Company Isn't Easy
Firms that want to unite far-flung units often struggle to get employees to collaborate.
A sales manager recently told me about an embarrassing scene that unfolded before an important client meeting. "Two teams from our firm were waiting in the lobby when the client walked in, and the groups didn't recognize each other," she said. "What a contradiction of our promise to provide integrated solutions! We looked like the Keystone Kops."
At many companies, senior executives launch initiatives to encourage disparate business units or newly merged firms to act as one. They envision their employees united around a common brand, coordinating across functions, and going the extra mile for one another's customers. But their calls for collaboration often fall flat. When it comes to getting a company to act as a unified whole, even the best intentions are often undermined by three fundamental challenges: lack of visibility, too much complexity, and difficulty establishing trust.
1. How do you know where uncoordinated teams are duplicating work, damaging customer relationships, or undermining your brand promise? Employees tend to lack a clear view of how their actions impact other units or customers. One company I worked with switched to sustainable packaging, only to find that one of its departments was cutting costs by switching to less sustainable providers. "The left hand did not know what the right hand was doing," said the packaging manager. Even worse, reputation-damaging contradictions like this one will remain invisible (to the company, not to customers) until leaders take time to find out what they don't know they don't know.
Employees tend to lack a clear view of how their actions impact customers.
Leaders should start by convening forums for discovery, where employees can identify areas for collaboration and build relationships with other groups. Cross-functional task forces, communities of practice, innovation summits, and shared calendars are all effective models. To avoid falling to the bottom of the priority list, as can happen when people are consumed by their day-to-day responsibilities, these forums should focus on specific opportunities. For example, leaders can convene a task force of employees from various units to walk in the customer's shoes for a day by trying to make a purchase or listening in on calls. Once they understand how the company's units coordinate (or don't coordinate) with one another, they can design solutions that enhance the customer's experience. Other target-rich opportunities include developing joint account strategies, coordinating negotiations with suppliers, creating shared tools to simplify processes, synchronizing change initiatives, and sharing talent internally.
2. How do you deal with complexity without adding bureaucracy? In the short term, collaboration adds work. "In a matrix organization, simply figuring out whom to collaborate with is a challenge," a strategy leader recently told me. Yet no one wants more procedures, checklists, or tollgates.
One solution is to borrow the concept of "simple rules" from the field of complexity theory. As Donald Sull and Kathleen M. Eisenhardt point out, identifying and rigorously applying a few tested principles in key areas of your business can improve coordination without burdensome procedures. For example, one team accelerated project delivery by agreeing on a simple rule to share information on technical "gotchas" as early as possible in their process. Other groups I have worked with have adopted simple rules to address the complexity in their business, such as scheduling cross-functional kickoff meetings at the start of every project, prioritizing work based on a shared set of guidelines, or updating one another after customer meetings. One caveat: Company leaders can't let these agreements drift just because they forget to bring new employees up to speed.
3. How do you get people to risk depending on one another, rather than resorting to hidden factories or political games? Even after employees see concrete opportunities to collaborate and have identified simple rules that make coordination manageable, you still may face challenges regarding trust. The fact is, every organizational structure can devolve into silos, because there are always boundaries between groups. Companies that take unified action are those that invest in relationships and trust between teams.
The first thing to remember in building trust is patience; people need to learn through experience that their own results will not suffer because they depended on a colleague. Start the process by making a small promise or acting in a collaborative way — such as sharing useful information or talking up a high-potential employee who might be ready for a new role — then asking your peers to reciprocate. In a world in which promises are routinely forgotten, simply remembering what you said you would do and sticking to it (or changing it consciously) will help build more truly collaborative relationships. For their part, senior leaders should ensure that incentives are aligned, and that champions are not putting their quotas or budgets at risk to do what is right for the company.
It is natural for individuals to feel they will be better off if they act on their own — it's what game theorists call a "collective action problem." But in the long run, acting like one company is good for everyone. If we could see our organization through the eyes of a customer, employee, supplier, shareholder, or a community group, it would be all too clear that we really are in it together. By collaborating to address the challenges of visibility, complexity, and trust, we can raise the tide that lifts all boats, including our own.
Recommended stories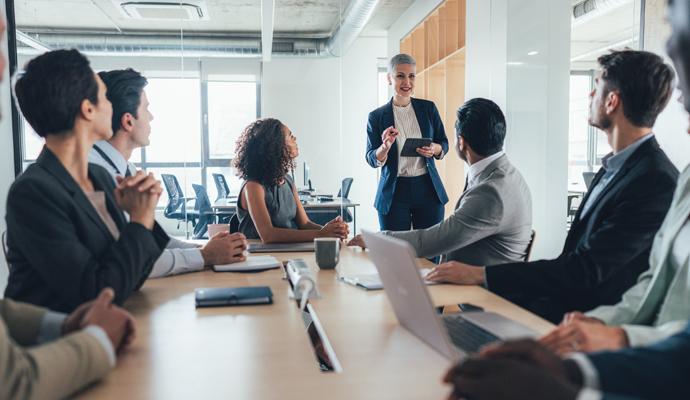 A former executive's 1960 novel, The Lincoln Lords, shines a light on the essential qualities of leadership.