Be prepared for disruption: Thinking the new unthinkables
Having a purpose that engages the next generation is a key challenge for leaders today.
In 2016, Bob Collymore, the CEO of Kenya's telecom giant Safaricom, had an unthinkable moment. He and Safaricom typically were lauded for innovation and for being ahead of the market; for example, the company's mobile banking app, M-PESA, had revolutionized payments via mobile phones, even for those with the least money.
But to his surprise, Collymore found himself being attacked on social media as "a thief" for allegedly overcharging customers for Safaricom's new data bundles. His critics were thousands of dissatisfied, young, and often poor customers who called themselves digital ninjas. After rechecking Safaricom's pricing, Collymore realized that they had a point: The tariffs were more complicated than they needed to be. "We were taking money for things which people weren't using," he told us. Within days the company had to change not just its tariffs, but its culture, mind-set, and behavior toward the next-generation critics who had produced an unthinkable moment: Almost overnight and via social media, their actions could have led to mass subscriber defection and reputational damage that would jeopardize attracting the subscriber base of the future.
The tension between "next-gen" expectations and corporate realities can be brutal. But leaders who can't or don't adapt are often finding their business models challenged and even shredded. This global phenomenon is particularly acute in countries such as Kenya, where up to half of the population is under 26, because this generation has financial clout. So Safaricom quickly established a youth network, BLAZE, to embrace this demographic and support unconventional journeys to success. All Safaricom executives are now being reverse mentored: Executives spend two hours a month listening to the digital ninjas. As a result, instead of an exodus of subscribers, both Safaricom's revenues and profits were up, 14.1 percent and 9.8 percent, respectively, for the year ending March 2018.
Collymore's story is one of 10 case studies in our new book, Thinking the Unthinkable: A New Imperative for Leadership in a Disruptive Age, a study of leadership at a time when the unimaginable is the new normal. We set out to answer a simple question: Why were so many leaders in government, business, and nongovernmental organizations struggling with the pace of disruption to institutional, corporate, and political life? Our findings are based on 2,500 pages of transcripts from hundreds of interviews with leaders in corporations, government, and the NGO sector.
The main conclusion is that the conformity — defined as adhering to conventional wisdom — that gets leaders to the top too often disqualifies them from grasping the scale and nature of disruption. Leaders are saddled with what Geoff Mulgan, chief executive of Nesta, a global innovation foundation in the United Kingdom, labels "zombie orthodoxies." These leaders rise through the ranks listening and conforming to those like them.
Conformity gets leaders to the top, but too often disqualifies them from grasping the scale and nature of disruption.
But disruption requires precisely the opposite: It needs leaders to think, and plan for, unthinkables. In order to do this, it is imperative to have a clear purpose and to embrace diversity, inclusivity, and new behaviors, which will help leaders understand and even anticipate the impact of disruption. It is an enormous Rubik's Cube. As one top professional told us: Leaders today confront having to "eat an elephant in one mouthful." This is not a case of trying to break down today's challenges into neat solutions. The multiplicity of stakeholders see problems from different perspectives, and they have divergent goals. This means there are no immediate or obvious solutions, because nobody can agree on what the problems are in the first place, never mind what the solution should be. Ronald Heifetz, the King Hussein bin Talal Senior Lecturer in Public Leadership at Harvard University's Kennedy School, has labeled these "often murky, systemic problems with no ready answers" as "adaptive challenges.''
The case studies we explored show that leaders who experiment with radical options for adaptive problem solving, such as Safaricom's Collymore, make new discoveries that allow them to flourish. They can adapt along with the scale of the disruption. In the case of Safricom, this adaption meant recognizing the power of the next generation — the digital ninjas — and responding to them immediately in order to cope with the new disruptive realities. This can only be done with leadership willing to embrace a new humility and empathy: a real purpose.
The British Army is going through a similar process of thinking the unthinkable in a world facing a new range of security threats beyond the battlefield. When he took over leadership of the British Army in 2014, General Sir Nick Carter, who headed campaigns in Iraq and Afghanistan, responded to these threats by introducing a bottom-up approach to authority in an organization hitherto known for hierarchy. He reached out to the next-gen rank and file to contribute to decision making: "The career structure was too rigid. It offered no career incentive to mavericks, for example," Carter told us. Leaders must be "downward-looking" so they could get to know the younger generations of soldiers, those with new and bold ideas about how the military could function. Instead of just giving orders, Carter set out "to cascade the idea of empowerment down into the bowels of the institution."
Motivating, engaging, and retaining the next generation demands a strong direction set by the leader. It must be a clear purpose backed by actions. The next generation no longer looks at "[work] as just another paycheck," former PepsiCo CEO Indra Nooyi told us. "They look at it as 'How can I go to work and make a difference in society?'"
"It's only when you start to really press CEOs on precisely what is the purpose of their business that you realize that they often do not have a clear notion of it," says Colin Mayer, a professor at the Saïd Business School at Oxford University. "Or it often does boil down — in the case of publicly listed companies — to something about profit, rather than about companies producing goods and services that benefit us as customers and communities and, in the process, producing profits."
The fear is that talk of "purpose" still remains a convenient and fashionable slogan, but empty. It may only be mainstreamed when there is hard evidence that having strong values adds money and social value to the company. Mayer is leading the charge to find rigorous data through his work at Oxford and the British Academy project on the Future of the Corporation to establish a causal link between values and value. "Until that's the case, it's going to be extremely difficult to persuade the investment community that they should be moving in this direction in a big way," he says.
This is despite the very clear signals now being sent by the public to both corporate and political leaders that purpose matters. These unthinkable scenarios — such as Collymore's young customers deserting overnight — must be accepted, not ignored. The challenge is even more acute in a world of digital transformation. Artificial intelligence and biotech are bringing huge changes to society. For leaders, a new clarity of purpose and a moral compass is essential, as is an understanding that huge new disruptions are the hallmark of the new normal.
Will leaders be emboldened to break out of their conformity? Or will they find refuge in mistakenly believing that disruption is a blip? This is a new age of unthinkables. Leaders will have to both cope with and thrive on change to survive. Some, at least, have already received the message.
Author profiles:
Nik Gowing, coauthor of Thinking the Unthinkable, was a main presenter for BBC World News and is now a visiting professor at King's College London and Nanyang Technological University, Singapore.
Chris Langdon, coauthor of Thinking the Unthinkable, is founder–director of Reconciliation through Film, a film production company that specializes in conflict resolution. He was managing director of Oxford Research Group from 2010 to 2014.
Recommended stories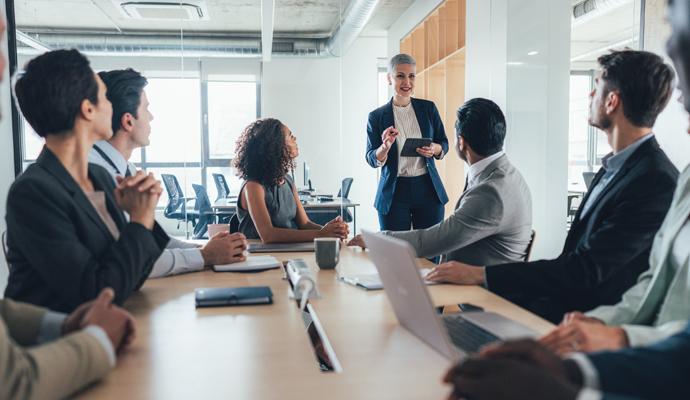 A former executive's 1960 novel, The Lincoln Lords, shines a light on the essential qualities of leadership.