Why Are 4 Billion People without the Internet?
Three obstacles to extending the reach of the Web — and thereby reducing poverty in developing countries — can be fixed.
One of the most effective ways to reduce poverty in developing countries is to extend the reach of the Internet. Over the last 20 years, the online world has created millions of jobs and billions of dollars of economic activity. Entire new sectors have emerged, such as e-commerce, social media, and data analytics. In developing countries, the Internet is even more powerful than it is elsewhere. It can connect people who have known only subsistence to the modern economy, and provide them with opportunities for social and economic advancement. Yet most people in developing countries, some 56 percent of the world's population, still do not use the Internet.
Most people in developing countries, some 56 percent of the world's population, still do not use the Internet.
Why has progress been so slow? There is a temptation for policy makers to blame protectionism, especially when the telecommunications sector is involved. From this perspective, some decision makers are constraining Internet development because they fear it will invite foreign competitors, who will compete unfairly with local Internet service providers or telecom operators. These are important issues, but they do not sufficiently explain why so many people aren't online.
We dug deeper to understand the factors that keep more than 4 billion people unconnected. Using the Internet is daunting for many people in developing countries for three main reasons: Access is too expensive; the Internet lacks content that is relevant to them; and the Internet is too unfamiliar. The consequences are that many people can't easily connect, they give up trying too soon, or they don't attempt to connect in the first place because they cannot appreciate how it might help them.
The first barrier, affordability, is the most important — and may offer the most significant opportunity for change. Assuming that Internet usage means consuming 500 megabytes of data per month at current prices, only 17 percent of people in South Asia and 11 percent of people in sub-Saharan Africa can afford to use the Internet. (This amount, although considered reasonable in developing countries, is still less than an average mobile data user consumes in developed countries.) To make the Internet affordable to everybody, global prices would need to fall by an average of 90 percent — which is implausible with current infrastructure costs. At today's prices, the margins on data are negative for many connectivity suppliers in developing countries.
To remove the affordability barrier, we need to make access cheaper and more efficient. This can be accomplished by modernizing the data infrastructure — specifically, by replacing 2G, which was designed for voice and text but not for data, with more up-to-date 4G and 5G broadband systems. The most cost-effective way to upgrade is to repurpose frequencies currently occupied by 2G, which would automatically move existing subscribers to speedier access.
Modernization also means building more data centers and Internet exchange points (IXPs) in developing countries. This would provide the critical infrastructure that knits together national and international networks, and that makes connections faster and cheaper. At present, the more populous developing world has just a fraction of the international infrastructure of the developed north. In North America, for example, each IXP serves just 4.1 million people. By contrast, in South Asia, each IXP must handle 215 million (see exhibit). If the number of IXPs in developing countries rose, access to information, employment opportunities, and economic growth would also rise.
Which brings us to the second barrier: relevance. We know that when the price of data falls, the market for Internet-based content and entertainment in developing countries grows quickly. Many "work-around" enterprises already exist, helping people sidestep the constraints of streaming on mobile bandwidth and retrieve information at a lower cost. In Nigeria, for example, Kiora, a content developer and distributor, allows a user to download a full-length film in a few minutes by connecting to a hot spot. He or she then has 48 hours to watch the video.
People in developing countries are more likely to spend their scarce income going online if they see it improving their lives through education and commerce. Some people in developing countries are willing to spend money on online education because the colleges and schools near them are of poor quality or unreliable. Additionally, they find it cheaper to obtain the latest edition of digitized textbooks through shared terminals than to buy hard copies.
E-government services can also bring people online, especially those living in remote areas. Travel to government offices can be difficult and expensive, and face-to-face interactions often expose individuals to corruption. The Indian government's Common Services Centres Scheme currently reaches 199,000 villages, with the ultimate aim of reaching 2.5 million rural locations. The centers give people access to official services such as identity documents and passports; business services, including mobile plan top-ups and financial products; education services; weather information; and soil information.
To be sure, many people in developing countries either have not heard of the Internet or associate it with expensive computers, smartphones, and telephone contracts. This is the third barrier. One way to remove this obstacle is through a consultative approach, such as meeting in local communities with potential Internet users, and offering them the training and validation they need to feel less wary about going online. In Sri Lanka, for example, local entrepreneurs run training centers that educate people in Internet use and let them experience the benefits of online communication.
Which groups can put these actions in place? All the stakeholders in the digital ecosystem can play a part: governments, telecom operators, Internet service providers, development institutions, and businesses.
• Governments can attract more people to the Internet by increasing the availability of e-government services.
• Telecom operators and Internet service providers can help by adjusting their contracts to simplify the value proposition so that consumers pay by the experience, such as for each app they use. This is cheaper and easier to understand than the current model, in which people living on just a few dollars a day have to commit to a long-term contract before knowing what they will find online, making Internet access a financial risk.
• Development institutions can provide support for the costly international infrastructure that leads to faster and cheaper access. For example, the World Bank contributed to the funding of the Eastern Africa Submarine Cable System (EASSy), which became operational in July 2010 and drastically cut wholesale and retail Internet prices.
• Consumer brands can accentuate their access to "the fortune at the bottom of the pyramid" by subsidizing Internet access. In India, Hindustan Unilever operates a free radio-on-demand service to remote villages that lie beyond traditional media coverage. The company now provides close to 43 million people with free news and entertainment, while advertising its brands.
The benefits are clear for each of these stakeholders. Getting the world online can reduce world poverty by 7 percent by expanding world output, creating millions of jobs, and giving today's poor the chance to advance socially and economically. People will go online as much for edification as gratification. It will alter the character of the Internet, creating billions of Web pages in languages that are today marginalized. And it will lay the groundwork for a global society in which economic opportunities can expand more freely, widely, and productively than they do today.
Recommended stories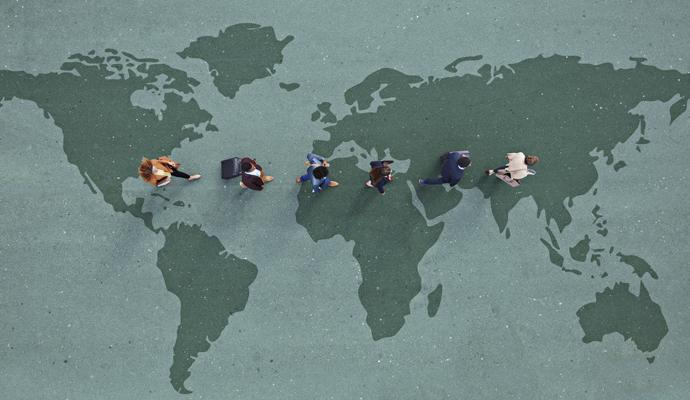 Episode 11 of the Take on Tomorrow podcast features Parag Khanna, author and entrepreneur, and Dion Shango, PwC's territory senior partner for Africa Central and Southern Africa, discussing the implications of an increasingly mobile world.