Remembering Warren Bennis
A consummate humanist and pioneer of management thought leadership has passed away.
Warren Gamaliel Bennis passed away on July 31. For those of us who personally knew this influential writer and commentator on leadership and organizations, one of his most notable attributes was his understanding of the paradox of human nature: our ability to simultaneously drag ourselves down and rise to great heights. His famous aphorism—that while managers know how to do things right, leaders know how to do the right thing —is one of his many legacies; it's a guiding principle for anyone with influence. Risk-averse decision makers, Warren said, don't become effective leaders, because excessive caution keeps them from doing anything important.
While managers know how to do things right, leaders know how to do the right thing.
Of course, doing the right thing is far harder than many leaders want to admit. Warren set impossibly high standards for himself, but he also forgave himself (and everyone else) full-heartedly for not meeting them. This forgiveness was one reason, I think, so many people were drawn to him. He never let us forget our potential, or feel limited by our failure to realize it.
I first met Warren in 1994 at a reunion of organizational development leaders at Antioch College in Ohio, where he had attended school as an undergraduate in the late 1940s and early 1950s. At the time, I was researching my book The Age of Heretics, which tells the history of a social movement seeking to change large mainstream corporations for the better. Warren was one of the primary figures in that movement, and a major character in the book. In a remarkably gracious gesture (considering the not entirely flattering way in which he's portrayed), he published the book's second edition in 2012 under the Warren Bennis imprint at Jossey-Bass.
At Antioch, Warren had been a protégé of college president Douglas McGregor (author of The Human Side of Enterprise). He later joined McGregor at MIT, first as a PhD student in economics and then as a professor of industrial management. In the decades to come, Warren played a significant role in the evolution of management thinking: as a leader at the National Training Laboratories in the 1950s, as an administrator at the State University of New York at Buffalo and an innovator of organizational change methods in the 1960s, as the president of the University of Cincinnati in the 1970s, as one of the most influential thinkers on business leadership in the 1980s, and as the founder and head of the Marshall Leadership Institute at the University of Southern California in the 1990s.
He was a living symbol of pragmatic humanism: the ability of people to make a better world by mustering the efforts of our imperfect selves toward perfect ends. And he was an uncommonly prescient observer of the political and social milieu of his time. He foresaw the collapse of Russian communism (in the 1960s), the dangers of total transparency (people need a little secrecy to collaborate across boundaries), and the cultural colloquy between young and old (articulated in his terrific book Geeks and Geezers, coauthored with Robert J. Thomas and published in 2002, when Warren was 77 years old.)
Warren's personality, which was visible in everything he did, was one of erudite conviviality and perceptive generosity. He was an incorrigible, but discreet gossip—interested not in spreading the worst about other people, but in sharing insights about their essential selves. The title of his autobiography, An Invented Life: Reflections on Leadership and Change, referred to how he deliberately designed every aspect of his image and life's direction. He thus became a well-known and well-connected academic, literary, and political figure. But he also saw his reputation fall apart several times in public ways, most famously in 1969 when he suddenly withdrew his name from consideration as the head of a new university of applied behavioral sciences ("an international university for social change," as he put it), which he had championed and almost brought to life. He had suddenly realized that he could no longer sacrifice his own family and private life for an idealistic dream. Instead of bringing a new university to life, Warren took the presidency of an old one, the University of Cincinnati. Here, his aspirations suffered another blow when he faced board and faculty opposition, and could not fully bring to life the brilliant intellectual center that he had once envisioned building there. This was the source of another classic Bennis idea, "the unconscious conspiracy," which proposed that, unless leaders are careful and skilled, the realities of everyday life will always combine to drag them away from their true purpose.
But Warren never allowed the setbacks to bring him down for long. During his time in Cincinnati, for example, he guaranteed the school's survival by brokering its entry into Ohio's state university system. He also opened his office to students and junior faculty; if they had no other recourse, they could take their problems directly to him during specified hours. Former undergraduates still vividly remember the atmosphere Warren created, where students felt like the most important people on campus because, unlike most college presidents, he was paying close attention to them.
Over the years, Warren has been a great friend to strategy+business. He shared his thinking in the magazine, including in this interview, and he often gave us immensely valuable perspective—especially during the late 2000s, when he advised us on how to build our reputation.
The words of his that stick most in my head came from his last commencement speech at the University of Cincinnati in 1977, where he quoted a letter he had written to a friend's daughter. She was trying to decide whether to stay safely in a small town, or risk moving to a big city, where she might get trapped in a dehumanizing workplace. What if she failed? "If learning is the centerpiece of living, as I think it to be," Warren replied, "how can we ever really fail unless we decide [that] choice is too dangerous?" If we try too hard to protect ourselves from any environment that seems like it might be dangerous for us, he told her, "then our shutters close off life."
Anyone who works for a major enterprise knows the temptation to shut life off in that way. Fortunately, we have the example of Warren Bennis: a man who deeply understood that temptation and showed us how to resist it, and how to keep learning throughout our lives—by taking risks and striving to do the right thing.

Recommended stories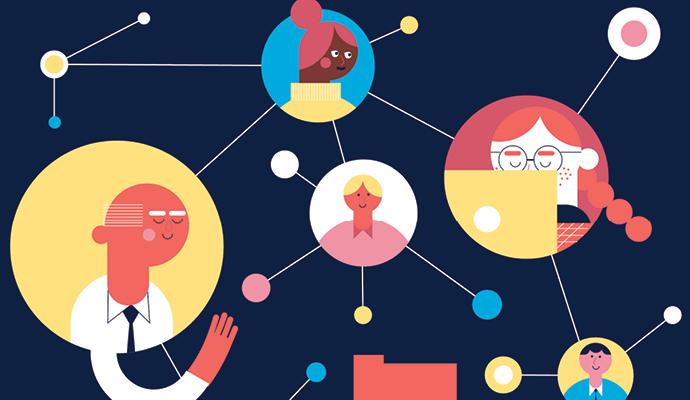 As we redesign work for the hybrid future, it is vital to understand the ways that information flows and networks form within organizations.