India's new unicorns
The world's largest democracy is becoming a seedbed for billion-dollar startups.

In 2013, when Aileen Lee, founder of Cowboy Ventures, coined the term unicorn to refer to technology startups with valuations over US$1 billion, there were 39 unicorns in the United States. India had none. Its fledgling startup scene faced significant barriers: limited funding, a dearth of talent, inadequate infrastructure, and a plethora of cultural and social challenges. For college graduates who aspired to management jobs in large IT firms and multinational corporations, entrepreneurship seemed unappealing. Young male entrepreneurs often talked about being rejected by prospective brides and their parents.
"Hiring was a massive challenge," recalls Raghunandan G, who cofounded the Bangalore-based ride-sharing aggregator TaxiForSure in 2011, four years after finishing his MBA at the Indian Institute of Management. "My business school classmates all had education loans. The guys from engineering school were married, and had housing loans. Startups were seen as incredibly risky." Even friends who believed in him and his idea were reluctant to come on board.
Around the same time, Bhavish Aggarwal, an Indian Institute of Technology (IIT) graduate, was bringing another ride-sharing aggregator called Ola to life. In 2010, as a staff researcher for Microsoft, he had rented a car to take him to Bandipur National Park. Midway there, the driver decided to renegotiate the rate. Aggarwal argued, and the driver forced him out of the car and drove away. With fellow IIT graduate Ankit Bhati, he opened a ride-sharing business based in Mumbai, which they named Ola. As he later told the Economic Times, when his parents heard the plan, they asked why he would quit Microsoft to become a travel agent.
What a difference a few years can make. Aggarwal is now one of the best-known entrepreneurs in India. His company, which relocated to Bangalore, became a unicorn in September 2018, and is now valued at $5 billion. In July 2019, it spun off another unicorn, the electric vehicle manufacturer Ola Electric, with a Softbank investment of $250 million, a $1 billion valuation, and a high level of entrepreneurial confidence. "We are a very experimental company," Aggarwal told an interviewer in 2019. "We let our employees take risks. If we fail, so what? We will succeed at something."
As for Raghunandan G, he is now an angel investor, funding and advising other fast-growing startups. He took up this role after selling TaxiForSure to Ola in 2015 for $200 million. (The shares he received in Ola ultimately turned out to be worth about $19 million.)
Similar stories of rapid riches are being told throughout India. Indeed, the rise of unicorns in this country is not just a boon for those who have invested in them. It's increasingly seen as a sign that the Indian economy is reaching a turning point and that its entrepreneurial culture is maturing.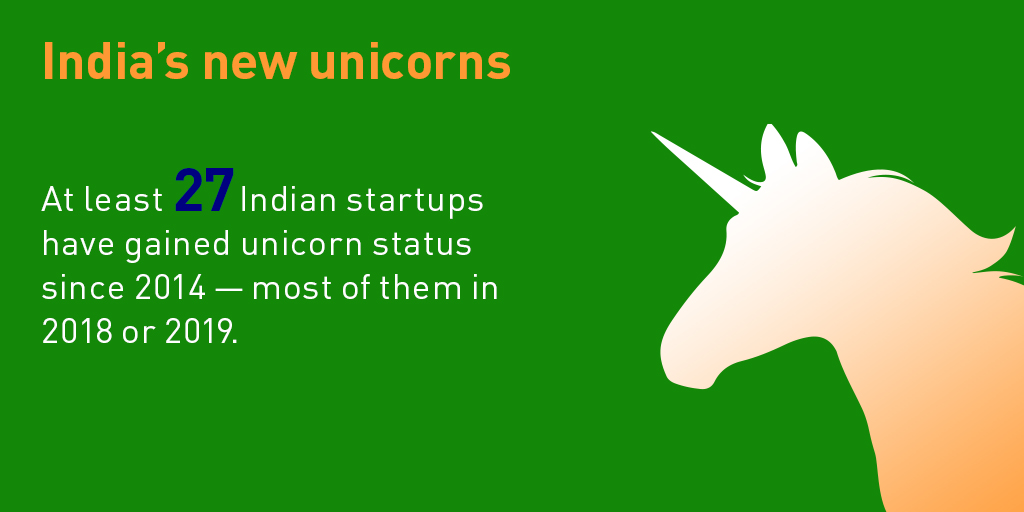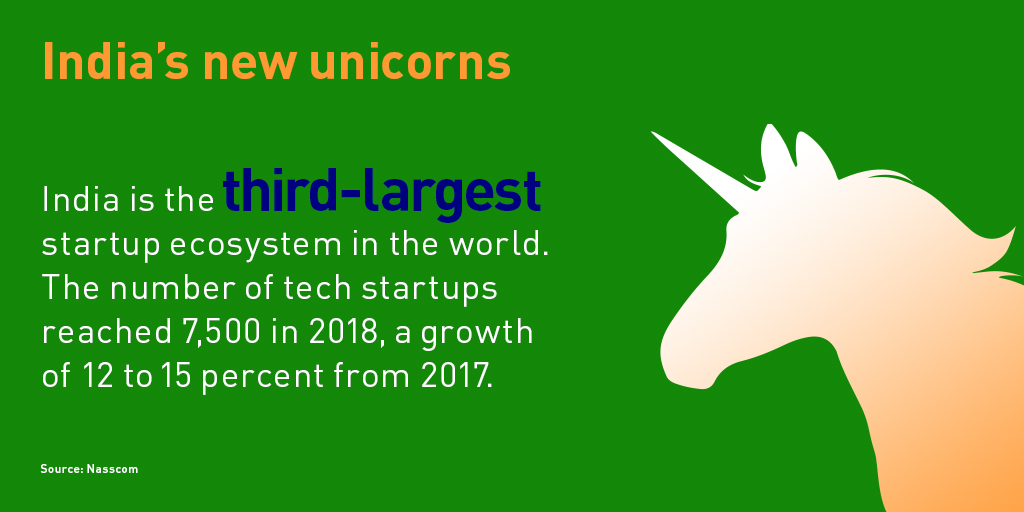 Ola, for example, was one of 11 Indian companies that became unicorns in 2018 — more than in all previous years combined. Other members of the class of 2018 include online insurance company Policy Bazaar, hospitality company OYO, and B2B software-as-a-service (SaaS) company Freshworks. That year also marked the biggest e-commerce deal in the world to date. Walmart paid $16 billion to acquire a 77 percent share of the Bangalore-based shopping site Flipkart, which had been founded in 2007 by two former Amazon employees, had become Amazon's fiercest rival in India, and had gained unicorn status in 2012. This acquisition also signified the largest exit for venture capital and private equity firms in India to date; their combined return on investment amounted to $14 billion, while Flipkart's valuation rose to $22 billion. The first three quarters of 2019 have already witnessed the emergence of another eight unicorns (see "India's unicorns, 2014–19"). Udaan, a B2B e-commerce platform, gained unicorn status just two years after its inception, and that may be the pattern in the future: There are many more "soonicorns" in the wings.
Escape velocity
The emergence of Indian unicorns is best understood as a new force in the global economy. According to Indian Tech Startup Ecosystem: Approaching Escape Velocity — a 2018 report by the Indian tech industry association Nasscom — India is the third-largest startup ecosystem in the world. The number of tech startups reached 7,500 in 2018, a growth of 12 to 15 percent from 2017. Many of these were advanced technology startups; companies involving data analytics, artificial intelligence, and the Internet of Things experienced the fastest growth.
"The Indian startup ecosystem is approaching escape velocity, and is setting itself up for a period of sustained growth," said the Nasscom report. Since then, startup activity has accelerated, along with financing from venture capitalists, private equity firms, and incubators (see "The incubator opportunity"). For example, the number of late-stage deals in the first eight months of 2019 has surpassed those of the previous two years. Global tech incubator Y Combinator has funded 12 Indian startups in 2019, compared with five in 2018, while investment applications from Indian companies increased by 50 percent. In a recent interview with the Times of India, Y Combinator president Geoff Ralston said he expected to fund a larger percentage of Indian unicorns in future years. "We think the opportunity represented by Indian startups and founders is enormous," he said. "It's because of multiple reasons — one being that there are really smart people, the founders."
The incubator opportunity
The last few years have seen a rise in catalytic support for entrepreneurs: "incubators" that reach out to promising upstart companies and link them with mentors, early-stage investors, media opportunities, and one another. The industry association Nasscom, creator of the Approaching Escape Velocity report on startups, has taken this mission to heart. Nasscom's flagship program, called 10,000 Startups — for which PwC India is a knowledge partner — has set a goal of finding and mentoring that number of young companies. Some of the startups are invited on an annual trip called InnoTrek, where they travel to Silicon Valley and meet with peers, advisors, and potential role models.
The incubator practice is powerful in India because the startup ecosystem — the network of emerging tech-oriented companies and their collaborators — is growing rapidly, and young innovators welcome help and perspective. These programs provide a much-needed link between mainstream corporations and the startup ecosystem, connecting high-growth-potential startups ready to scale with more established companies looking to embrace new technologies.
Among the companies getting involved with startups as cocreators and mentors is our own firm, PwC India. We coach young startup leaders on the refinements of pricing. We also provide insights into real-time industry use cases and customer pain points to help them design the context for their product evolution and its time line. We thus help foster a culture of sustained innovation across the country.
One of the companies we are involved with, IoT Research Labs, is dedicated to creating software for sensors and other networked devices. Founder Thanmai Deekshith started with a problem: the large and increasing number of accidents in the fleet management sector caused by poor driving. Thanmai realized that the Internet of Things could resolve such issues. "The transportation sector is plagued by issues such as absence of real-time vehicle information, poor driving, and pilferage of goods and fuel. This results in operational inefficiencies and raises safety concerns," he says. IoT Research Labs developed customized solutions involving sensors, software, and analytics. "We have been able to show the value we create up front to fleet owners of commercial vehicles," he says. "At a macro level, this enables us to create value for society at large." IoT Research Labs has recently taken on clients in Nigeria, Bolivia, and the United Kingdom.
Another company, AuthBase, which is part of Nasscom's 10,000 Startups program, provides cybersecurity solutions. "My father, my uncle, and my siblings are entrepreneurs," says founder Umesh Thota. "We were attuned to think differently. For us, home life was like the marshmallow experiment: proving that the ability to delay gratification is crucial for success in life." For Umesh, the most critical factors are related not to money, but to passion and persistence. "Capital is not a prerequisite for a technology company. Building a product in India is inexpensive, and allows room for testing. Therefore, the quality of the product is much better," he says. "We may still have some distance to cover before we catch up with Silicon Valley. We will slowly but surely get there."
by Vishnupriya Sengupta
One striking aspect of the tech startups in India today is their ambition for expansion elsewhere in the world. Like their counterparts in China, they recognize that if they can rapidly build a business at home, they can compete elsewhere as well. Indian startups also have some distinctive advantages: overall familiarity with the English language, few restrictions on investment and partnership, a long-standing precedent for inexpensive innovation in the IT services industry, and a large diaspora of technology-savvy emigrants who succeeded overseas and may be ready to return.
Some Indian unicorns are already building a global presence. With funding from Softbank and Airbnb, lodging aggregator OYO (originally called Oyo Rooms) has moved into more than 500 Asian cities in countries such as China, Japan, Malaysia, and the Philippines. In the U.S., according to the Financial Times, OYO is opening an average of one hotel per day, and plans to invest $300 million for further expansion. The six-year-old startup is also aggressively expanding to offer shared working and living spaces. Its acquisition of the Indian coworking space company Innov8 (reportedly for $30 million) was an early step in that direction. Within OYO, Innov8 is still run as an independent business by its 30-year-old founder, Ritesh Malik.
Another example of how rapidly India's unicorns can move from local prowess to global ambition is Think and Learn Private (more commonly called Byju's), the world's most valuable education technology business, with a $5.4 billion valuation. Founder Byju Raveendran, whose parents were math and physics teachers, grew up in the small Keralan village of Azhikode. He was a gifted math student (a winner of India's National Math Olympiad) and then an engineer for a U.K.-based firm called Pan Ocean Shipping. Around 2008, at age 26, he began coaching his friends to help them pass India's competitive Common Admission Test, a national exam used for admission into graduate management programs. He was such a master at the lectern that word spread, and he rapidly moved to teaching in auditoriums and then by video. Raveendran, his wife-to-be Divya Gokulnath, and eight of his early students started a company; by 2011, they were also offering courses for students age 5 to 16, using digital animation to explain math and science concepts. Their original goal, he later said, wasn't to start a business. They had "a passion which ended up becoming a business."
Byju's was the first venture in Asia to attract investment from the Chan–Zuckerberg Initiative (established by Priscilla Chan and Mark Zuckerberg). Its tutoring app, Byju's, is now available in the U.S., the U.K., and Australia. In 2017, it acquired the online education business TutorVista from Pearson. It now has an ongoing deal with the Walt Disney Company to use Disney characters in Byju courses. In short, though Think and Learn Private still has the lion's share of the Indian education market, and though the company is still managed by a small group of teachers and their students located in Bangalore, its audience — and ultimately its influence — is global.
Millions of new consumers
The long and often arduous journey from Bangalore International Airport into the center of the city is a visitor's first experience of India's technology hub, also known as the Silicon Valley of India. Potholed roads and horrendous traffic snarls provide a disorienting introduction to the nation's startup capital. Other technology hubs around the world — including San Francisco, Shanghai, London, Berlin, Tel Aviv, and Singapore — are supported by sophisticated startup-friendly infrastructure. But in Bangalore (and other Indian tech hubs such as Hyderabad and Gurgaon), the startup ecosystem developed more or less on its own. Only in the last few years has there been any significant effort to foster the kind of community environment that would be hospitable to its unicorns.
Why, then, are these companies thriving? One enormous advantage is their home market: more than 1 billion consumers, many of whom are now moving online for the first time. India's steadily increasing literacy, prosperity, and broadening of access to digital technology have made this possible. Another factor is the country's demographics — India's median age of 27 is younger than that of most other territories. Millions of ambitious young people have moved to cities in search of jobs, and are learning what it means to be middle class. They are demanding the kinds of goods and services that unicorns are well suited to provide: retail goods (Big Basket), food delivery (Swiggy, Zomato), insurance (Policy Bazaar), and education (Byju's).
To be sure, some unicorns, such as Freshworks, Icertis, and Druva, are primarily oriented to business customers abroad, like their predecessors in IT services. But as Y Combinator partner Adora Cheung told Crunchbase, there are many new Indian startups targeting their home markets. "They're building for the Indian consumer," she said.
One event in particular catalyzed the entrance into the consumer class for millions of Indian people: Reliance Jio's introduction of its 4G bandwidth smartphone in 2016. Mobile data charges in India were already among the lowest in the world, but Jio, a newly launched subsidiary of the Reliance group, lowered those costs by 95 percent. The cost of a gigabyte of data fell from 9.8 percent of per capita monthly GDP (about US$12) to 0.37 percent (just a few cents in the U.S.) between 2013 and 2017. By May 2019, Jio had more than 322 million subscribers, adding 8 million users in that month alone. According to Counterpoint Research, there are 400 million smartphone users in India — and the market is still underpenetrated.
With its combination of smartphones and cheap bandwidth, India is now the largest data consumer in the world. The country's current average data consumption figure, of 9.8 gigabytes per smartphone per month, is set to soar to 16 gigabytes with the introduction of 5G and the proliferation of video. Even now, e-commerce represents only 3 percent of retail sales in India, so there is enormous potential for continued growth.
Three other factors, which were all introduced in 2016, are also accelerating this growth. They were the Aadhaar card, the biometric identification card developed by the government of India; the United Payments Interface (UPI), an interbank standard for mobile payments, which made payments instantaneous, easy to use, and trustworthy; and India's demonetization initiative, which (among its other, often-criticized effects) moved the country further toward digital finance. Adopted by small businesses and college students across India, UPI-based payments soon became widespread; in mid-2019, the UPI volume surpassed debit and credit card transactions for the first time, and by August there were 900 million UPI payments per month. They're likely to reach 1 billion by the end of 2019.
In India, the UPI-equipped smartphone represents a leapfrogging technology, giving people in remote villages unprecedented access to education, work, media, and economic tools. Competition among UPI-based payment services is fierce. Paytm, whose parent company One97 was the first Indian fintech unicorn, leads with a 43.3 percent market share. Closing in on its first-mover advantage is PhonePe, a subsidiary of Flipkart, with a 33.4 percent share. Morgan Stanley recently valued PhonePe, by itself, at $7 billion, saying that its valuation could go as high as $20 billion. Rapidly coming up behind them are three competitors from the United States: GooglePay (which is tightly linked to its Android phone operating system), WhatsApp Pay (reportedly entering India in 2019 with a starting base of 400 million WhatsApp users), and Amazon Pay. One study — Emerging Technologies Disrupting the Financial Sector (pdf), by the Associated Chambers of Commerce and Industry and PwC India — estimates that by 2023, digital payments in India will double from $64.8 billion in 2019 to $135.2 billion.
Other enormous opportunities include media for the non-English-speaking population. Entrepreneur Virendra Gupta recognized these opportunities in 2011, when he bought a webzine called Newshunt from two former Nokia executives and rechristened it Dailyhunt. "India is primarily a local language market," he explained in a recent interview with exchange4media, an Indian site for marketing and media news. "So our main aim was to…help people who come online for the first time on mobile." To that end, the Dailyhunt set up a platform with non-English fonts for mobile phones; it offers news and entertainment in 14 languages, and boasts 19 billion page views a month and 300 million active users, adding another 12 million to 15 million net per month. The company is reportedly in talks with Softbank and Carlyle Group for funding, with a proposed late 2019 valuation of $800 million to $900 million and a Jio-enabled, video-driven, interactive future. "We are investing heavily in artificial intelligence and machine learning," says Gupta. "We have a strong machine learning and artificial intelligence engine that personalizes content and ads.… We can offer advertisers the same…CTRs [click-through rates] and flow-through rates [that] Google and Facebook can offer."
Raising capital for unicorns
Another defining factor catapulting the ecosystem from its fledgling stage is increased access to capital, from inside and outside India. The flow began in 2014, slowed down in 2016, and began to accelerate in earnest after 2017. According to Nasscom, Indian startups raised $4.2 billion from January to September 2018, an increase of 108 percent from the previous year. A year-end funding report by YourStory (an online media platform for Indian entrepreneurs) put the total funding raised by Indian startups for 2018 at $12.2 billion in equity funding, and another $1.14 billion in debt funding across 864 deals.
Sameer Brij Verma, the managing director of Nexus Venture Partners (a venture capital firm based in Bangalore and Silicon Valley), says the funding availability reflects not just the Indian consumer market, but today's relative lack of operational friction. Before 2016, he says, "Amazon Web Services [AWS] wasn't mainstream, payments were still a problem, and mobile broadband access and logistics were still not at scale. After 2016, startups could be created completely on AWS, and they leveraged a much improved payments infrastructure, involving E-KYC [a 'know-your-customer' verification system based on digital IDs] and Aadhaar. Access to mobile broadband has vastly improved with the launch of Reliance Jio. As a result, getting startups off the ground is a lot more capital-efficient, and the companies are scaling a lot faster."
Investors are also drawn to India by the number of successful exits. In 2018, these reached $19.6 billion, a fourfold rise from the year before. Walmart's Flipkart acquisition, in particular, buoyed investor sentiment.
Sources of capital largely involve three geographic locations. The first is India itself; homegrown venture funds have raised new rounds of capital, and family asset managers are getting into the game. Funding from PremjiInvest, established by Wipro founder Azim Premji, propelled SaaS provider Icertis to unicorn status. Other active family offices include Ratan Tata's RNT Associates and Infosys founder Narayan Murthy's Catamaran Ventures. The old economy companies are also beginning to invest. Hero Motocorp, the world's largest two-wheeler manufacturer, has invested $49.5 million in Aether Energy, an electric scooter manufacturing startup. Mahindra & Mahindra, Godrej, and Reliance Industries are also active. A growing number of angel investors, made up of successful startup founders, are also players.
U.S.-based investors, too, see opportunity in India. They signed 222 deals in 2018, up from 22 five years before. In addition to Y Combinator, these investors include private equity firms such as the Carlyle Group (which participated in a $395 million Series F round for Delhivery) and General Atlantic (which has invested $32.4 million in Byju's and $86.7 million in CitiusTech).
The fastest-growing group of funders hail from Asia and the Middle East. Investors such as Softbank and Beenext from Japan; Alibaba, Tencent, and Shunwei from China; and sovereign wealth funds from Qatar and Abu Dhabi are increasingly looking to India. From one deal in 2014, Chinese investors funded 21 deals in 2018. For Japanese investors, deals went from three to 54 in the same period. Softbank has put more than $8 billion into Indian enterprises, making it the single largest such investor. Jerry Li, founding partner of the Chinese-backed eWTP ecosystem fund, told YourStory that India would lead the third wave of the startup revolution, following the U.S. and China.
A new global presence
"India is now both our biggest audience and one of our fastest-growing audiences," said YouTube CEO Susan Wojcicki at the May 2019 Brandcast (the Alphabet subsidiary's annual flagship event for advertisers). She added that the platform had more than 265 million monthly active users in India, that 85 percent of the videos were viewed on smartphones, and that 60 percent of the views came from outside the six largest metropolitan areas in India.
WhatsApp, which has more than 400 million users in India, likewise counts the country as its biggest market. The company's global head, Will Cathcart, has described India as the future of WhatsApp. India is also the largest market for Facebook, which has recruited more than 241 million of its 2 billion users there — about 100 million more than are in the United States. Moreover, these numbers represent only a fraction of the potential market.
The rivalry between local and international tech companies is increasingly fierce: Ola versus Uber, or Hotstar and Jio versus Netflix and Amazon Prime. Indian unicorns are more vulnerable to foreign competition than their counterparts in China, with its strict controls. At the same time, investors are attracted by India's free, open economy; a strong pride in Indian culture and opportunity; and another significant factor perhaps unique to this country: access to talent.
Systemic factors underlie this talent advantage, according to startup mentor Udhay Shankar. "One is a fairly large set of people who decided to move back to India, temporarily or permanently, typically from product startups in the U.S., where they have had experience working the entire product life cycle, from design to development to engineering to shipping, sales, and after sales," Shankar says. "The industry didn't really have people with these experiences before, so this proved a huge advantage." Within India, the IT services boom in the early 2000s has contributed a significant amount of technology training, in part through job placements that exposed young Indian engineers to global teams, problems, and experiences. The IT boom also led to the proliferation of engineering colleges.
Startups themselves have been a source of experience. Freshworks founder Girish Mathrubootham spent 10 years at Zoho. The three cofounders of Udaan emerged from Flipkart. As in the U.S., where so-called startup mafias consist of alumni from tech companies such as Google, Paypal, or Facebook, India has developed networks with alumni from Flipkart, Paytm, Redbus, and TaxiForSure. "A profound advantage that comes from being part of a startup mafia," said Raghunandan G, "is that the company acts as a de facto school of entrepreneurship, where future founders have worked across the entire product cycle, and have the experience to know what works and doesn't." Three of his former employees at TaxiForSure founded Ninjacart, India's largest B2B fresh produce supply chain company, currently valued at more than $320 million. Raghunandan G provided capital of his own, and helped with mentoring and connections, including to Accel, a leading venture capital firm.
Other types of institutions are also lining up in India to support its entrepreneurs. There are industry bodies such as Nasscom, think tanks such as iSpirit (which initiated India Stack, a nationwide open source API standards initiative), startup sections in newspapers such as the Economic Times, and a host of startup-promoting media channels, such as Factor Daily, Inc42, Plugged.in (now named NextBigWhat), The Ken, and YourStory. As a result, entrepreneurship is now seen as respectable, even in smaller, more traditionally minded cities, including Indore, Jaipur, Patna, and Mohali.
Government measures (beyond Aadhaar and UPI) have also been a catalyst for unicorn growth, particularly in small towns, where public-sector endorsement adds status. Some state governments are getting involved; for example, the government of Karnataka (the state of which Bangalore is the capital) has created Elevate 100, a funding initiative that will identify and support 100 innovative startups. The government of India dismantled the Foreign Investment Promotion Board, thus easing the flow of foreign capital; abolished a much-derided "angel tax" on early funding; and set up a 10,000 crore (about $14 billion) government fund to provide venture capital to startups. In 2019, it launched Sahamati, a first-of-its-kind consent-based sharing platform, which allows individuals and small businesses to easily exchange financial-services data with third parties. It could also be used in healthcare and elsewhere.
Government reforms have been a necessary component of India's new startup-friendly culture. Asked over email how their B2B e-commerce platform Udaan became a unicorn in just two years, founders Sujeet Kumar, Amod Malviya, and Vaibhav Gupta identified four factors: "(1) a large market gap that no one was attacking in a serious way, (2) a great team executing on a great product offering for this market, (3) the appetite that the small and medium-sized enterprises had to devour such a product offering, and (4) fantastic timing in terms of [tax and other regulatory] reforms."
There may also be more streamlining and regulatory reform in the future. "What we need is similar to what the government did for IT services in the late 1990s," said Nasscom senior vice president Sangeeta Gupta, "with software technology parks and exemptions on export taxes and import duties."
Although billion-dollar valuations don't inherently predict the long-term sustainable success of a company, the unicorn tag is starting to be seen in India as an entrepreneurial rite of passage. "Breaking $1 billion is a psychological milestone," said Hiten Shah, cofounder of several SaaS companies, including KissMetrics, Crazy Egg, and FYI. "It indicates that your company is a real force, a business to be taken seriously. It has a cascading effect on the press, investors, and recruitment."
Breaking $1 billion is a psychological milestone. It indicates that your company is a real force, a business to be taken seriously."
This year, India ranks behind China and the U.S. in number of unicorns. But it is becoming easier to launch a unicorn in India than just about anywhere else. "India is a mega growth story," said Nexus Venture Partners' Verma. "It has a stable government, relatively stable [foreign direct investment] policy, a global economy that is open for business, and a large English-speaking population. Companies like Walmart are coming in because they see a 20- to 30-year race going on, and they know that if they are not here now, they will find it very hard to displace other companies later."
What will happen when billion-dollar companies are prevalent in India? Will their presence accentuate the inequality of its society? Will they facilitate broad economic growth and renewal? Or will the combination of a burgeoning young population, a massive new middle class, and a rapidly digitizing economy reshape the country in an unprecedented way? As Innov8 founder Ritesh Malik put it, "We haven't even scratched the surface of our potential yet."
Author profiles:
Vishnupriya Sengupta is a director with PwC India, based in Kolkata. She is a writer, editor, and knowledge management professional.
Suvarchala Narayanan is a business writer, future of work researcher, and startup consultant. She lives in India and Europe.
Also contributing to this article were PwC India partner Murali Talasila and director Chetan Anand.
Recommended stories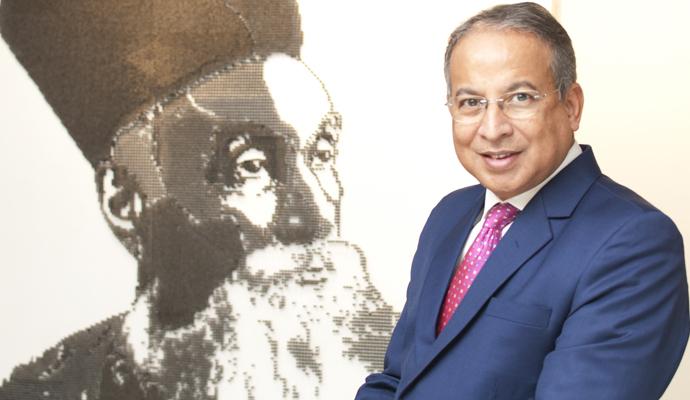 CEO and managing director Dr. Praveer Sinha on India's shift to net zero and the future of the energy sector in the region.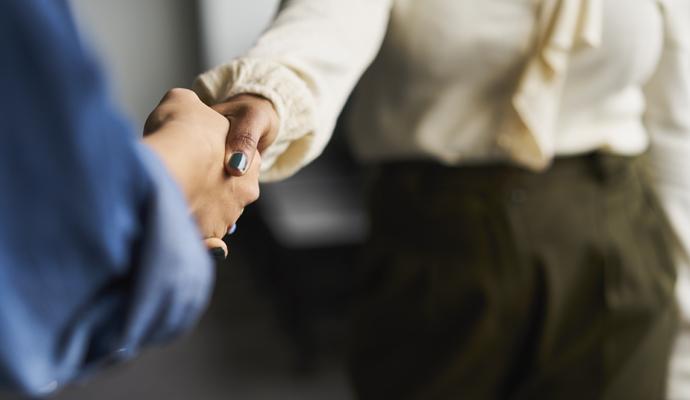 In our increasingly digital world, startups and established firms can make progress together by building trust and focusing on value creation.