Shake Shack's Secret Sauce? It Cares.
The burger chain's boffo business model thrives—despite paying low-wage workers more than it has to.
Shake Shack went public with a huge splash in late January. It priced 5.75 million shares at US$21 a share, raising $121 million. The stock promptly doubled on its first day of trading, giving the 63-unit chain a valuation of nearly $1.7 billion. While the stock has since slipped a bit, it still boasts an impressive valuation.
The company was founded by high-end restaurant impresario Danny Meyer as a hot dog stand in Madison Square Park in 2001. The ingredients of the business—simple, beloved fare like burgers, hot dogs, fries, and milk shakes, a commitment to freshness and quality, and Meyer's flair for hospitality—have proven a recipe for success. Shake Shack has evolved into a global business, and it is approaching ubiquity in the New York region. (There's one in the Connecticut town where I live, and my kids vastly prefer it to McDonald's, or to Five Guys, whose use of peanut oil makes it a no-go zone for the allergics in my household.)
Truth be told, Shake Shack's burgers are good. But they're hardly transcendent. So what makes Shake Shack shimmy? The difference lies in the design of the business—it simply does things a little better than people expect, given how much they are paying. That has been Danny Meyer's stock-in-trade since he launched the Union Square Café in the 1980s. Meyer's expanding empire of restaurants—Gramercy Tavern, Blue Smoke, Maialino—are never at the top of the market, in price or unctuous service. But they dish out excellent meals made with fresh ingredients at a fair price. And all in an environment where customers are treated with a greater sense of hospitality than is absolutely necessary. The business proposition rests less on gastronomic or financial engineering than on an appreciation of human emotion. Meyer's memoir, Setting the Table, paints an image of the restaurateur as a mensch, not a slick player. "Our team is trained to understand and practice the values of Enlightened Hospitality: caring for each other, caring for our guests, caring for our community, caring for our suppliers and caring for our investors," as Shake Shack's prospectus notes.
The business model also extends to the treatment and pay of its workers. Fast food and quick-service restaurants are a famously—and often, controversially—low-paying service industry. The largest players in it have for a very long time built their business around the minimum wages, or low wages. Viewing labor as an input like any other input (paper, beef, potatoes), they work fiercely to keep a lid on its cost.
Here, however, Shake Shack takes a different approach. It chooses to pay more than it is legally required, and probably more than the slack labor market requires it to do. Workers start at $10 an hour in New York (where the minimum wage is $8.75), and $9.50 an hour in other locations, as ThinkProgress.org reported. There's more: Full-time workers get health benefits (the company picks up 70 percent of premiums), paid time off, and 401(k) matching contributions. Through a program called "Shack Bucks," employees receive a sliver of total sales—not profits.
Shake Shack pays more than legally required, and probably more than the slack labor market requires.
This menu may not be gold-plated compensation by any means. But it is significantly better than the industry standard. And it clearly doesn't hurt margins. Shake Shack doesn't stint on real estate, ingredients, or labor. It has found that doing so enables you to build businesses that can move a lot of product in a highly efficient and customer-friendly way. As the company notes in its prospectus, a typical Shake Shack does $5 million in revenues. Those in Manhattan rack up $7.4 million in sales and gaudy 30 percent operating profit margins, while those outside New York ring up $3.8 million in sales and operating profits margins of 22 percent. All those figures compare favorably with the industry at large.
Shake Shack may find it difficult to maintain such numbers as it scales up. But its higher-than-necessary cost architecture is likely to help it weather looming stresses.
Designing a business to run on a thin margin while paying the lowest possible wages makes a lot of sense if the minimum wage doesn't rise and the labor market is perpetually slack. One of the outstanding characteristics of the expansion that began in July 2009 has been the disconnect between rising wages and profits on one hand, and stagnant wages on the other.
But trends have a way of breaking. And change is coming. Regulatory pressure is pushing wages up. The federal minimum wage may remain stuck at $7.25, as it has since 2009, but is increasingly being superseded by state laws. Last fall, ballot measures in four deeply conservative states (Alaska, Arkansas, Nebraska, and South Dakota) were passed to boost the minimum wage. Add in state legislation and several states in which the minimum wage rises and automatically, and, as the Economic Policy Institute reports, on January 1, 2015, the minimum wage went up in 21 states, directly raising wages for some 2.4 million workers. Well over half the U.S. workforce lives in a state where the minimum wage is higher than the federal baseline.
Meanwhile, the labor market is tightening. January marked the 59th straight month of jobs growth, with 11.2 million payroll positions added in the past five years. The headline unemployment rate has fallen from 9.9 percent in April 2010 to 5.7 percent in January 2015. And thanks to rising confidence, more businesses are hiring. According to the Labor Department, at the end of November 2014, there were 5.0 million job openings in the U.S.—more than double the number open in November 2009.
If Shake Shack is going to expand the underlying business into its lofty public-market valuation, it will need to maintain its excellence while opening a substantial number of new outlets. The strategy will likely rise and fall on the ability of its team members to deliver. And it's much easier to attract new workers and retain existing ones if your business is designed to pay workers above the going rate. Danny Meyer's shtick on hospitality and caring may occasionally come off as corny. But the cold, hard facts of Shake Shack's financial performance thus far show that valuing workers as much as the products you sell and the customers you serve can be good business.
Recommended stories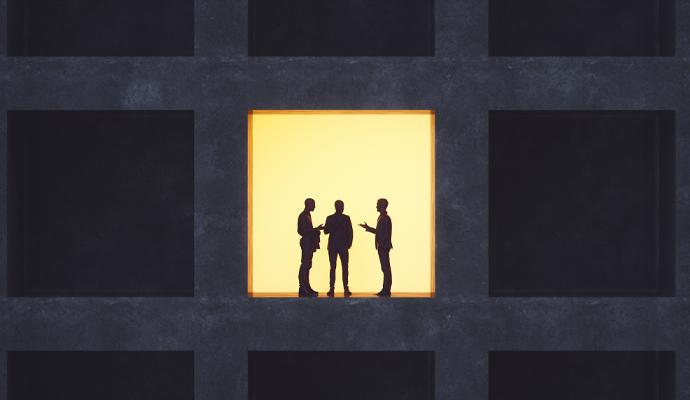 The film Glengarry Glen Ross prepares us for hard times to come—and reminds managers how not to behave, no matter what's ahead.