/ Summer 2022 / Issue 107
The real value of video content
As spending on streaming content skyrockets in the media and entertainment industry, a new formula is needed to drive a sustainable return on investment.
A version of this article appeared in the Summer 2022 issue of strategy+business.
The surge in consumer demand for streaming video content is yielding blockbuster—and eyebrow-raising—deals. Netflix reportedly paid US$450 million last spring for the rights to Knives Out 2 and Knives Out 3, the sequels to the 2019 murder mystery that grossed $312 million at the box office. Universal Pictures and NBCUniversal's streaming service, Peacock, in partnership with production companies Blumhouse and Morgan Creek, reportedly signed a $400 million–plus deal to purchase the worldwide rights for a new franchise of The Exorcist—even though the original film, starring Ellen Burstyn as the mother of a demon-possessed child, terrorized theatergoers nearly 50 years ago. ViacomCBS, meanwhile, has been busy selling $3 billion in stock to fuel spending on content for its Paramount+ streaming service—spending that includes a whopping $900 million for six extra seasons of South Park and 14 movies set in the fictional South Park universe. In an industry projected to shell out $230 billion on content globally in 2022, megadeals like these have become routine salvos in the fight for streaming customers. Some will hit the mark; others won't. That's always been the nature of the entertainment and media industry.
But this tried-and-true portfolio approach won't guarantee success—or even survival—as the streaming wars rage on through 2022 and beyond. To be sure, global spending on streaming services is continuing to grow (as the chart below shows), but competition is growing, as new services proliferate.
As rights holders pull their content from streaming services in droves to offer it on their own, the rules of content ROI have changed dramatically. The days when companies could count on a stream of revenue during theatrical "windows"—box office, DVD, premium and basic cable, broadcast syndication—are coming to an end. So are the cushy licensing deals that allowed poorer-performing titles to be packaged with blockbusters.
In this new world, every content asset matters. One clunker can mean a mass subscriber exodus. That's why we created a three-pronged formula for content valuation that can help drive meaningful and sustainable ROI. The formula is simple and consists of three variables: demand, expansion, and exclusivity.
Demand
To properly value any third-party TV show or movie, one must understand demand. That's no easy task in the era of streaming. Most platforms opt not to share detailed viewership data with the public. However, some independent data and analytics firms, including Parrot Analytics, have built their own demand metrics based on the level of piracy and social media chatter, and these can serve as a good starting point. The next step is to aggregate all forecasted and actual revenue-based metrics (such as ticket sales and total views) together with social-impact metrics (such as social media impressions) and quality metrics (such as awards or Rotten Tomatoes ratings). That will help you create your own demand metric for current and future content.
Expansion
Content that can be expanded into sequels, spin-offs, and TV series tends to be more valuable than "one-and-done" shows and films. Titanic was a historic box office success, taking in $2.2 billion worldwide, but the movie doesn't easily lend itself to expansion. The ship sank at the end, after all, and nearly all the main characters died. Titanic also hasn't sold a lot of merch. In contrast, Harry Potter is fertile ground for expansion. The eight Harry Potter films took in $7.7 billion at the worldwide box office. But thanks to toys, video games, Halloween costumes, and the Wizarding World of Harry Potter theme parks, the franchise is valued at more than $25 billion, which suggests an active and engaged fan base that's always hungry for more content.
In an industry projected to spend US$230 billion on content globally in 2022, megadeals have become routine salvos in the fight for streaming customers.
Now consider expansion in a streaming context: The Mandalorian is part of the expansion strategy of perhaps the most successful content franchise of all time: Star Wars. Having debuted on Disney+ in 2019, The Mandalorian takes place five years after Star Wars: Episode VI—Return of the Jedi and 25 years before Episode VII—The Force Awakens. Market-intelligence provider Antenna found that 29% of Disney+ subscribers who signed up during the launch of The Mandalorian's second season had actually subscribed to Disney+ in the past. To wit: these customers were joining back up to watch one particular show that held the promise of more to come.
Exclusivity
Exclusivity plays a major role in helping companies attract customers to their streaming platforms. Think back to January 2021, when the beloved nine-season, 201-episode NBC sitcom The Office moved from Netflix to Peacock. Fans helped NBCUniversal's streaming platform earn more paid sign-ups around The Office's debut than during the nationwide launch of the service or any other new programming event, including Premier League soccer. Disney+, meanwhile, offers a similar value proposition with Marvel's superhero fare, which moved from Netflix after Disney+ launched in late 2019. Since then, Disney-owned Marvel content has been a huge driver of customer acquisitions.
Playing to type
There is no single right way to apply our formula for content valuation. Each player in the streaming ecosystem has its own content strategy and business and revenue model. Some companies will offer content free with the goal of increasing viewership and merchandising sales. Others will only want to increase subscriber revenue. Every media executive must see the formula through the lens of their own business and future growth strategy. In our analysis of the industry, four instructive archetypes emerged. Each calls for a different application of our content-valuation formula.
1. The Reigning King
Netflix is in a category of its own. The company has 222 million paying subscribers, as of its fourth-quarter 2021 earnings report. Compare that with Amazon Prime Video's 175 million, Disney+'s almost 120 million, and Peacock's roughly 54 million.
Netflix is projected to spend more than $17 billion on content in 2022, a 25% increase from 2021 and a 57% increase from 2020, as the company must replace hundreds of television shows and movies that have left or are scheduled to leave for other platforms. Yet even with hit shows like Glee disappearing, Netflix still has the largest content library in the world. And its strategy is to continue building that library with its own content, particularly shows tailored for international customers, such as Narcos: Mexico and the Spanish crime thriller Money Heist.
How the Reigning King should use the formula: As Netflix matures in its second decade of streaming, the equation varies by geographic market. In saturated markets such as North America, where Netflix already has more than 75 million subscribers, expansion is the most important variable: Netflix must find new opportunities for growth beyond monthly subscriptions. For every content investment made, Netflix must ask itself: Can this piece of content be expanded to realize its full value? Can it drive higher average revenue per user (ARPU) via other revenue streams such as merchandising and new experiences? To bolster its two main sources of revenue—streaming and DVD rentals—Netflix recently launched an online shop for branded merchandise like Stranger Things hoodies. However, in emerging markets where customer attrition is less of a problem for the company, the demand and exclusivity variables take on greater importance.
2. The Nostalgists
Recent streaming entrants, including Disney+, HBO Max, and Peacock, have garnered millions of new customers and continue to gain traction in the market. One common denominator of their success: nostalgic blockbusters. Whether it's Disney+ with Star Wars, HBO Max with The Sopranos, or Peacock with 30 Rock, the formula revolves around the familiar comfort of hit shows and movies. The sentimental appeal of such content is also multigenerational: Star Wars pulls in older viewers who fondly remember the original 1977 film while hooking younger fans with The Mandalorian.
How Nostalgists should use the formula: Although demand and exclusivity matter to Nostalgists, expansion is the most important variable. Proven hits have established universes of fans ready to give up their time and money for spin-offs, sequels, and merchandise. Some Nostalgists, including Disney and NBCUniversal, are in the business of developing new material, and as a result still rely on the box office success of new content properties for revenue.
3. The Ecosystem Techies
Nostalgists see content as the primary driver of value, but others perceive content as a means to an end. Companies in this category aren't concerned with viewership as much as how that viewership translates to other outcomes, such as customer interaction on their platforms (Meta/Facebook), mobile device usage (Apple), data generation (Google), and deeper participation in a transactional ecosystem (Amazon). The Ecosystem Techies are focused on a new phase of streaming growth—one that's more centered on improving customer experience, building communities around universes of content, and retaining and creating value from their immense subscriber bases and troves of subscriber data.
How Ecosystem Techies should use the formula: Demand is the most critical variable. More eyeballs translates to a larger ecosystem. The expansion of any content would be nice to have but is not crucial. Exclusivity is even less important. Ecosystem Techies are accustomed to catalyzing the demand of other players (e.g., Nostalgists and the Reigning King) to take a cut of transactions.
4. The Sell-Side Creators
Sell-Side Creators spark bidding wars with their content. One of the leading examples of this archetype is Sony. Instead of spending billions of dollars to develop its own streaming platform, Sony decided to offer its vast catalog of shows and movies—which includes The Karate Kid, Ghostbusters, and Spider-Man—to the highest bidder. Under a deal inked last year, Sony's new theatrical releases will debut in theaters first and then premiere on Netflix. After the conclusion of that first pay-TV window on Netflix, those films will leave and take their permanent place on Disney+ or Hulu, which Disney co-owns.
How Sell-Side Creators should use the formula: Demand and expansion are critical to Sell-Side Creators. Before selling any content, they should forecast future viewership and potential sequels and reboots. Exclusivity becomes an asset in selling to the highest bidder.
A new equation
Proper content valuation represents a fundamental strategic choice for the future. As competition evolves with the rise of the metaverse, digital products such as NFTs (non-fungible tokens), and immersive digital storytelling, companies must make sound, data-driven decisions about content and maximize the value of every asset. Ultimately, the key is seeing this formula not as the answer in and of itself, but rather as one tool in a company's strategic arsenal. Used effectively, the formula can help dictate and frame the considerations to weigh and the choices to make about content acquisition and development.
Author profiles:
Kim David Greenwood specializes in growth and innovation, transformation, and risk management strategies for Strategy&, PwC's strategy consulting business. Based in San Francisco, he is a principal with PwC US.
Kate Kennard specializes in growth and innovation, transformation, and customer strategy for Strategy&. Based in New York, she is a senior manager with PwC US.
Chris Mowry is a managing director in PwC US's deal practice, focusing on valuation. He works with the telecommunications, media, and technology sectors nationally, as well as the valuation practice in Dallas, where he is based.
Also contributing to this article were PwC's Layton Cox, Ryan Pennock, Daniel LeFoll, and Kevin Joyce.
Recommended stories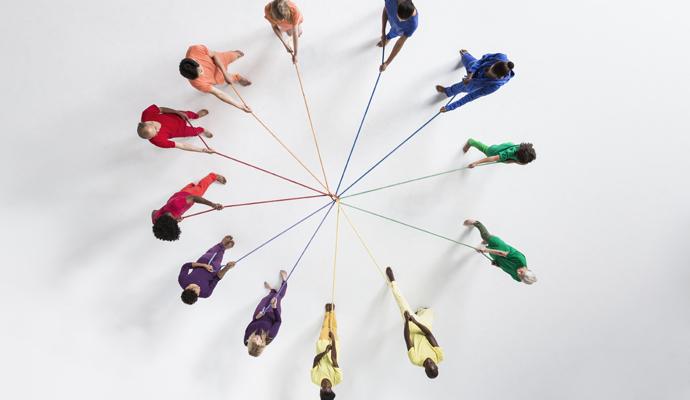 A well-orchestrated network of businesses that look out for one another creates greater value in difficult times.